Wynonna Earp Season 3 Episode 4 Review: No Cure for Crazy
Olivia Popp at . Updated at .
On Wynonna Earp Season 3 Episode 4, the show cashes in on all the messy craziness of not only the past three episodes, but the entirety of the past two seasons.
This episode shows signs of the series slowing up after the fallout of Dolls' death and not throwing too many storylines into one episode.
No Cure for Crazy starts as almost a Waverly-centric episode -- which honestly would have been refreshing--but brings it back around to Wynonna saving the day (which no one's complaining about!).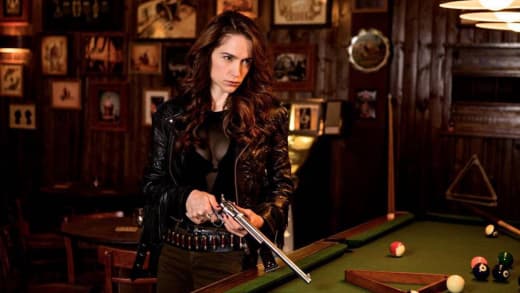 The great thing about this episode is that it isn't really even about Bulshar, this season's predetermined big bad. What's fantastic is that the episode barely even needs to touch on him because the viewer already knows he exists -- so why waste time?
In this way, Wynonna Earp so cleverly avoids the traps of so many shows, having milked Bulshar in the first few episodes of Season 3 and leaving his image lingering in the back of everyone's minds.
Now, the show can comfortably move onto side storylines that will eventually tie together in what we're all expecting to be an utterly complicated, beautiful knot.
The show also avoids having the protagonists battle too many smaller side antagonists that ultimately lead to no real connection to the big bad, which is the issue that other similarly themed shows very often run into.
Wynonna Earp avoids that by setting up Bulshar aggressively at first (see the last few episodes) and relying on hints (Doc's hallucinatory meltdown) and then allowing the rest of the story to run its course. Both don't need to occur at the same time--we know they'll eventually meld together.
This episode plows forward with bits and pieces collected from past seasons and from the beginning of Season 3, both fulfilling incredibly plant-and-payoff moments from past episodes as well as planting bits that are sure to blossom in the rest of the season.
For now, at least, this episode is the Wynonna Earp Season 3 standout. It plants a boatload of seeds that push the boundaries of what we know as the world of Wynonna Earp, but still remains in the realm of the show without forcing the viewer to stretch our imagination.
Admittedly, it does leave some questions about Purgatory as a whole that might fall out of the list of questions viewers might have (form an orderly queue, please!) -- is the Ghost River Institute a prison, a mental institute, or both? Is this an Arkham kind of thing?
This brings us to an extended flashback seven years earlier (huge compliments on that impressive red and blue lighting). Michelle/Mama Earp is able to roam free in the Institute, yet she's also dragged away in chains and tased.
At this point, it seems more like a prison than anything else, but there are still some lingering questions.
She set the fire. But she was no murderous sociopath. She was Michelle Gibson, the rodeo spitfire. The wild heart and loyal soul of Purgatory. Even the thugs and the dimwits drank to her.

Nedley
Nevertheless, this is what an absolutely amazing early-season episode should do. It litters the action-packed 40 minutes with open-ended storylines that give us a glimpse into what lies ahead, but doesn't reveal much.
It doesn't need to include every single character -- namely, Kate (although her character has given us plenty to look forward to).
It also doesn't even need to wrap up every single episodic storyline (what happened to the revenant that Wynonna couldn't send back to hell?). Now together, that's the brilliance of this episode.
This episode also began to play with genre and add horror undertones without sacrificing its signature playfulness and cheek at all ("Boob smush!" and Wynonna begins to perfect her timing of flipping off bad guys, to name a few standout moments).
Even the music becomes audibly more hardcore and grittier, complementing the darker side that the show is tackling head-on with grace (in a Wynonna Earp, whiskey-drinking, gun-slinging kind of way) and complete confidence.
Also, does your car have seat warmers? Because I ripped my pants while decapitating. It happens.

Wynonna
Wynonna's interaction with the Ghost River Institute warden is brief but absolutely brilliant, combining Wynonna's trademark sass with an impressive fight sequence and a decapitated head to boot. What more could Earpers want? Oh, wait -- not one, but two cliffhangers. 
In this way, Season 3 Episode 4 again lets loose in a way that previous episodes haven't. It's slower and much less complex than past episode but ultimately drops so much in that it doesn't feel slow -- rather, it's much the opposite. 
The episode doesn't answer that many questions, but that's okay because it acts a preparatory episode for the rest of the season.
It also avoids becoming overly convoluted so that viewers lose interest, but plants just enough with the knowledge that Earpers will follow through. The show can afford to do this because of the fandom, which is amazing--other shows might not be so fortunate.
The last two episodes spent a long time plunging us into their world, pondering hell, fate, and death -- accompanied by sweeping visual landscapes of snowy mountain ranges. It's not just idyllic and mystical in a way that the show's done in the past.
It's magical in a way and diving into an emotional territory that the show hasn't stepped into before, carving out such a unique space that makes the world of Wynonna Earp so real. These are characters that we truly, truly feel for.
If you ever threaten her again, if you ever so much as touch a strand of that perfect, luscious mane, I swear to God!

Wynonna
This sort of visual, narrative reality-building (it's not even worldbuilding at this point -- it's literally creating an alternate reality that we could 100% live in) pays off in Episode 4, which relies on the viewer's belief in the world of Wynonna Earp.
It trusts the viewers to also trust the creators in being able to pull off so many intertwined storylines. There's a sort of mutual, unspoken trust between the viewer and the show.
At the end of the episode, Wynonna carries us into some sort of bizarre, entranced, hypnotized, creepy-doll-esque land that again emphasizes the horror undertones (also, that wide angle lens though!) even if you've never seen that many horror films.
Waverly: She called me a demon. A demon. Over and over and over. Is that why she left?
Nicole: Your mother had a psychological disorder.
There's something innately psychological about their smiling faces that send shivers down your spine -- it's too good to be true.
This episode also indulges the audience with a lot of dramatic ironies (Waverly going to the barn, anyone?), catching the viewer while needing to spend the episode laying the foundations for an incredible season. (Jeez, can Waverly ever catch a demon break? Although -- we're here for dark Waverly.)
Now, we wait with bated breath to discover the outcome of our heroes. Next Friday can't come soon enough.
Make sure to watch Wynonna Earp online and catch up on the rest of the episodes if you haven't already!
What do you think will happen to the team after Jolene's arrival? Let us know in the comments below!
Olivia Popp was a staff writer for TV Fanatic. She left the site in September 2018.