The Good Place Season 3 Episode 13 Review: Pandemonium

Rachel Foertsch at . Updated at .
That's a wrap! The Good Place Season 3 Episode 13 has simultaneously closed one door and busted another completely off its hinges. 
The finale managed to set up the fourth season brilliantly as well as close out the story they were telling all season long. 
Related: The Good Place Season 3 Episode 12 Review: Chidi Sees the Time-Knife
The urge to write in caps and scream at the top of our lungs is definitely there, but to sum it up as professionally as possible: The Good Place just blew our forking minds. Again.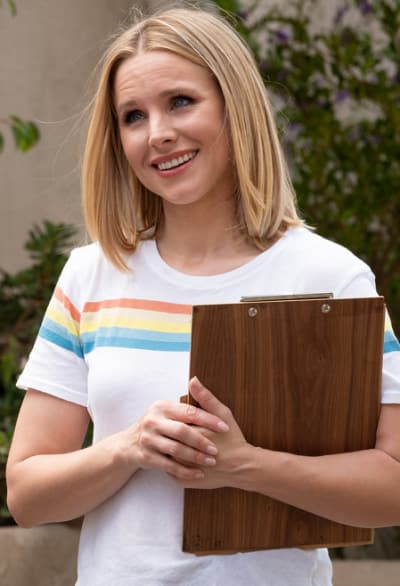 Eleanor becoming the new architect of the neighborhood was an ingenious idea. Not only is it comical, but it completely changed the dynamic of the neighborhood and will prevent this particular reboot from becoming repetitive.
Fun little update. Michael was feeling a bit overwhelmed, so new plan. I'm the architect.

Eleanor
Adjusting just one element on The Good Place always changes the entire story despite everything else remaining the same. It's almost like they can never run out of places to go because of a tiny alteration's ability to create an entirely different domino effect.
It wasn't surprising at all that the Bad Place had something evil up their sleeves. In fact, it would've been more surprising if they were allowed to pick the experiment's test subject and nothing unfortunate resulted in their choices. 
The Bad Place didn't pick the worst people. They picked the people who would be the worst for us.

Tahani
Bringing Simone in, however, changed the game entirely. 
At first glance, it seemed as if Simone's reappearance was just supposed to cause drama in Chidi and Eleanor's relationship. While that did turn out to be true, it's not exactly happening the way we thought it would. 
Related: The Good Place Season 3 Episode 11 Review: The Book of Dougs
Chidi, being Chidi, can't keep a secret to save his life. Despite erasing Simone's memories, there's no doubt that her presence there would mean constant stress for him. But was erasing Chidi's memories as well really the only option?
Eleanor: Jason, talk to no one, go nowhere, do nothing.
Jason: I won't let you down.
In terms of where the show is going, it makes sense creatively for Chidi to be the only one rebooted. It's not a route the show has explored yet, and it will be fascinating to see it play out.
Plus, television loves to put as much drama in relationships as possible, so something had to happen to throw Eleanor and Chidi's relationship into turmoil. 
Eleanor: That would be erasing...
Chidi: Us. I know.
Yes, erasing only Chidi's memories is a good story to tell, but the actual reasoning behind it feels a bit off. Even if Chidi acted weird and awkward around Simone, the chances of her figuring out the entire experiment because of that are slim to none. 
It feels like too much of a drastic measure got taken for something that could've been solved in another, more sensible way.
Then again, Eleanor did figure out what was going on hundreds of times, so when your souls are in jeopardy, it's probably better to be safe than sorry. 
Regardless of the why, Chidi's lost memories do feel like a necessary evil to keep the audience on their toes.
For seasons Eleanor has always been the one pining for Chidi, and it looks like that's not going to change anytime soon. Eleanor's unconditional love for Chidi is both heartwarming and heartbreaking.
There's really no situation or reboot that can stop her from loving him, and watching her suffer next season is not going to be easy.
Related: The Good Place: 8 Bad Place Do Overs We Still Want to See
We also do have to take into account that Chidi and Eleanor didn't necessarily get together in every reboot. It always took Chidi a long ime to admit his feelings for Eleanor, so we need to emotionally prepare ourselves for that possibility again. 
I don't usually cry at movies, but that one was pretty good. That girl was hot. That guy was too.

Eleanor
We got a brief glimpse of it at the end of the episode, but hopefully, this can also create a new opportunity for Eleanor and Janet to grow closer.
They've always been friends, but Janet is the only person who can truly understand what Eleanor is going through. She went through the same exact thing with Jason and understands how badly it hurts when the person you love doesn't remember you.
Related: Suits Boss Breaks Silence on Meghan Markle's Possible Return
Eleanor and Janet are also both hilarious characters, so there's no doubt that increasing their amount of scenes would add to the comedic effect of the show.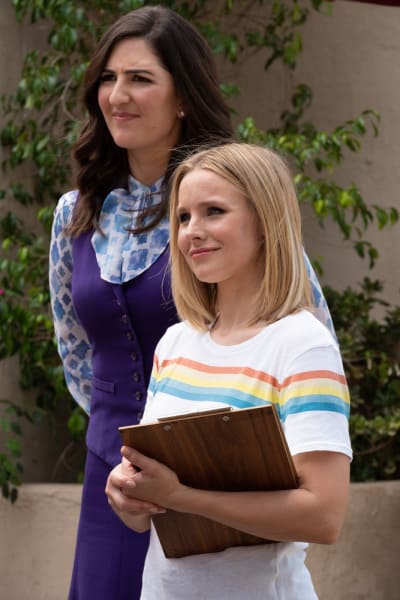 Overall, The Good Place Season 3 finale was an excellent addition to a relatively good season. The EarthBound plot may have been necessary, but it wasn't the most exciting story the show has ever explored.
Related: The Handmaid's Tale: Christopher Meloni to Guest Star!
Getting back to the afterlife and rebuilding the Good Place neighborhood immediately brought a good show back to one of the smartest and most innovative series on television. 
However bland Earth may be in comparison to the neighborhood, it is nice to know that the series can take place in multiple different places rather than being bound to one setting for its entire run.
Now that there is a new story and a new purpose, there are so many places The Good Place can go next season. But with Season 4 a while away, we've got our fingers crossed that the wait doesn't start to feel like a Jeremy Bearimy. What was that dot on the "i" again?
Miss the episode? Super behind on Season 3? Don't forget, you can watch The Good Place online right here at TV Fanatic!
Rachel Foertsch is a staff writer for TV Fanatic. Follow her on Twitter.