Days of Our Lives Spoiler Photos: HUGE Changes Ahead!

Jack Ori at .
Jack and Jennifer fans rejoiced when Days of Our Lives finally resurrected Jack on New Years Eve 2018.
Ever since his return, though, an amnesiac Jack has spiraled further and further into bad behavior thanks in part to Eve's manipulations.
But the spoiler video for Days of Our Lives during the week of 7-15-19 suggests that Jack is FINALLY ready to entertain the possibility of getting his memories back. Could romance be in the air again for him and Jennifer?
According to the video, Jack first again dismisses Jennifer's attempt to get through to him as her being a "pest", then later tells her he does want his memories back. Viewers are treated to a flashback scene of Jack and Jennifer kissing before Jack tells Eve that he wants his memories back.
Knowing Eve, though, this story is far from over -- how will she respond?
Related: Get Great Selection of New & Classic Movies with the Lifetime Movie Club via Prime Video Channels!
The official spoiler photos from NBC also suggest that change is in the air for a few other of our favorite Days of Our Lives characters.
Eric contemplates a change, Xander stands up to Kristen, and Hope and Ted kiss.
Check out all the Days of Our Lives spoiiler pics in the slideshow below and then tell us what you're most looking forward to!
Want to chat about already-aired episodes of Days of Our Lives? Check out our Days of Our Lives reviews, Days of Our Lives editiorials, and Days of Our Lives Round Tables!
Days of Our Lives continues to air on NBC on weekday afternoons. Check your local listings for airtimes.
1. Lani arrests Xander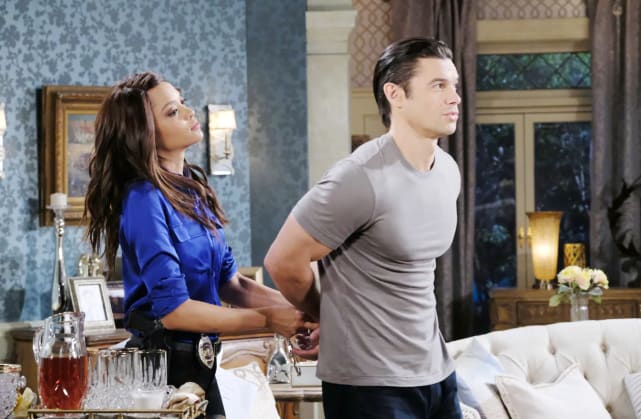 2. Stefan is blindsided.
3. Eric contemplates leaving town.
4. Xander gets revenge on Kristen.
5. Gabi and "Nicole" get into it again.
6. Jen makes another impassioned plea to Jack.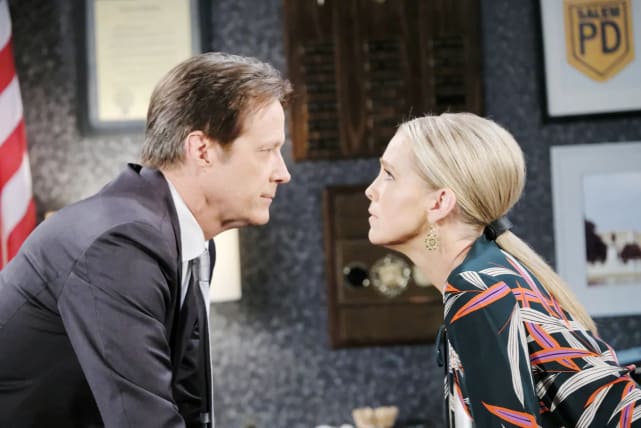 Wait! There's more Days of Our Lives Spoiler Photos: HUGE Changes Ahead!! Just click "Next" below:
Next