A Million Little Things Winter Finale Promo: Christmas with the Dixons!

Jasmine Blu at .
What's the opposite of a Christmas Miracle? 
Whatever it is, that's what Delilah may be facing in the midseason finale of A Million Little Things. 
On A Million Little Things Season 1 Episode 10, it's Delilah and the kids' first Christmas without Jon, so the rest of the friends come together at the Dixon house to help the grieving family celebrate the holiday. 
It sounds cheerful, fun, and sweet, right? After all, Gary can be found donning a Christmas sweater. 
Unfortunately, Ashley has spent the better part of the almost two months staving off whatever financial fallout may be facing the Dixon family in Jon's absence.
Related: A Million Little Things Season 1 Episode 9 Review: Perspective
All of her actions may be for naught when there is a knock at the door. 
Let it be said that the person who may be delivering some devasting news to Delilah on Christmas Eve or Christmas is an absolute monster with no soul. Who does that?!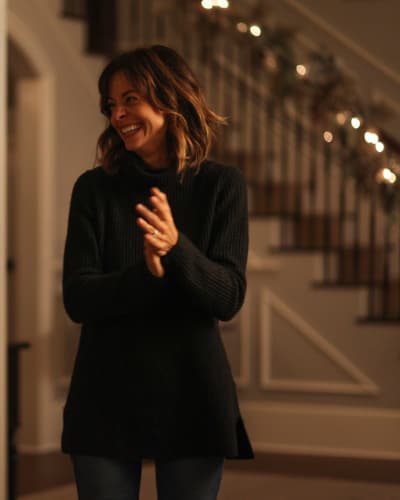 Ashley's actions have been a mystery, and all of her phone calls have been pretty cryptic, but the gist of it is that Jon has been having some serious financial issues. 
In the clip, she can be heard telling whomever not to do whatever it is they're about to do to Delilah and her kids so close to Christmas. That does not sound good at all. 
So, what are your theories?
Jon took out a second mortgage on the house, is it possible that the manila envelope being presented to Delilah is a foreclosure notice notifying her that she and the kids need to vacate their home?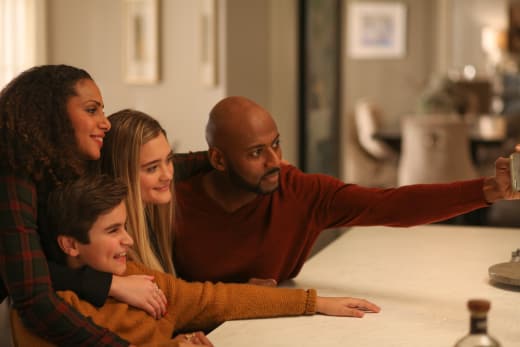 What if it's a bankruptcy notice? We still don't know what Jon was involved in, so could there be a lawsuit of some sort? Wouldn't it be interesting if Delilah required Katherine's services? 
It should be too early for most of the insurance policy information to be dropped on this group of friends. The most exciting portion of the promo is trying to determine who could possibly be at that door, and what could they possibly be revealing?! 
Manifest: Sorry NOT Sorry, But Grace is the WORST!
Whatever it is, Ashley couldn't stop it. Ashley is overwhelmed with the secrecy and needs to start reaching out to someone for help. This friendship group has a lawyer and an actuary in the mix. Why not use them?!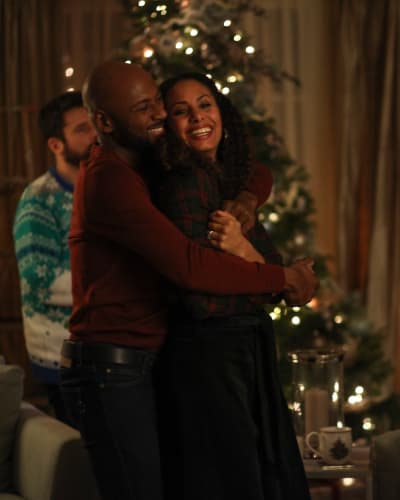 Of course, Ashley used Gary for a good time, and the promo also teases that Maggie will find out about it and be upset. 
Does she have a right to be upset though?
These two lovable idiots were convincing themselves that their relationship was casual, and at the risk of sounding like Ross Gellar, they were on a break. 
Gary has a decent explanation that stays true to who he is as a character. He breaks down and tells her what everyone has known for a long time. He's in love with her. Awww!!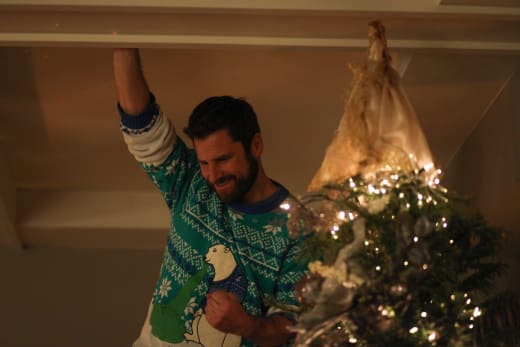 How will she react to the news now that he's said the words though? 
If things weren't complicated enough, Delilah is still trying to find the best way to tell her kids that she's pregnant. It's hard to say how either of them will react to the news. Out of the two of them, Sophie is the most perceptive. 
Related: Days of Our Lives Round Table: Abigail's Crazy Plan!
Eddie will be hanging around on Christmas with the others, and she'll be spending some time with her favorite guitar teacher, but do you think she'll pick up on something between Eddie and Delilah? 
The midseason finale is the hour many of us have been waiting on. It promises some answers, and it will set up the exciting second half of the season. Plus, the Dixon kids are back! 
Let's get the ball rolling! 
Related: Get Hallmark Movies Now via Prime Video Channels for Stories with Heart, Captivating Movies & More! 
What do you hope to see in the midseason finale? Who is at the door, and what are they delivering? Are we still 'shipping Maggie and Gary? 
Check out the promo below and hit the comments! 
If you need to check up before the finale, you can watch A Million Little Things online here via TV Fanatic!