If you love watching the true life stories of Kyle and Kim Richards unfold on The Real Housewives of Beverly Hills, then you don't want to miss out on how their own mother, also a real housewife of Beverly Hills, got her groove on in '70s.
When I was little, I wanted to be Kim Richards. She was the more prolific of the two sisters at the time, and we didn't know where she was going to be in the future. Her blonde hair was gorgeous! Give a little girl a break!
Now, I want to go back in time and see what it was like to be their mom. Her life looks like it was a lot of fun, and who doesn't want to step into the wild life of a woman in the '70s if even just for a little while?
The clothes, the typewriters (I have one just for fun!), the parties!!
There isn't a single thing about American Woman that isn't screaming WATCH ME.
Inspired by the real-life upbringing of co-executive producer Kyle Richards, American Woman follows Bonnie (Alicia Silverstone), an unconventional mother struggling to raise her two daughters after leaving her husband amid the rise of second-wave feminism in 1970s Los Angeles.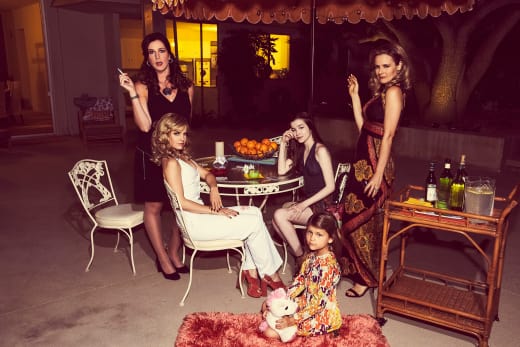 Bonnie also comes to rely on the help of her two best friends, Kathleen (Mena Suvari) and Diana (Jennifer Bartels), as they each discover their own brand of independence in a glamorous and ever-changing world reluctant to give it.
The series also stars Cheyenne Jackson (American Horror Story, 30 Rock) and James Tupper (Big Little Lies, Revenge.)
Who is aching to see this? Will this be perfect summer entertainment or what? 
American Woman premieres on Paramount Network Thursday, June 7 at 10/9c. Be there or be square!!