Is Laurel Lance really back in Star City?
That's something that was left up in the air after Arrow Season 5 Episode 9, but the new teaser for Arrow Season 5 Episode 10 seems to hint towards there being something more sinister going on.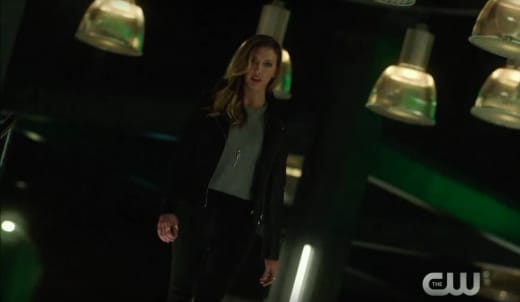 In what will probably go down as one of the best episodic teasers of the entire series, everyone seems to come together to welcome Laurel back into the fold. 
Heck, even Felicity seems to be happy about Laurel's return.
If you recall, Felicity literally just lost Billy to some of Oliver's arrows after Prometheus played a cruel trick on him. 
She sure made a quick recovery, and we're glad she does not appear to be holding what Oliver did over him. 
Maybe this will bring them closer together. 
At the beginning of the teaser, things seemed a little too perfect and it was clear things were going to go downhill pretty quickly. 
By the end, Laurel appears to be using her canary cry in the lair, causing a whole lot of destruction. 
A confused Oliver reveals that she is definitely not Laurel. 
"Finally, it's about time someone figured it out," barks the person who we think may really be Black Siren.
We are VERY intrigued by this. 
Remember you can watch Arrow online right here on TV Fanatic. Get caught up now!
Arrow returns for Season 5B on January 25, 2017.
Hit the comments with your thoughts on the preview!