Arrow Season 6 Trailer: Welcome, Michael Emerson!
Paul Dailly at .
We are just two days away from the return of Arrow, and The CW has dropped a brand new trailer that teases a LOT of big moments. 
While we don't know, exactly, who Michael Emerson is playing, we're willing to bet he's going to be one of the big bads of Arrow Season 6. 
We can get on board with that. Nobody plays a villain quite like Michael does. Remember him from his days on Lost? 
That feels like just yesterday, and we cannot wait to see what he brings to the table on Arrow. 
Of the other big moments, we get to see Oliver as Mayor balking at the claims that he is Green Arrow. There goes his plan to be more open to the residents of Star City. 
Oliver also has to adapt to being a full-time father to William, so we're going to assume Samantha perished on the island, but wouldn't it be fun if she returned just as Oliver figured out how to be a superhero, Mayor and father?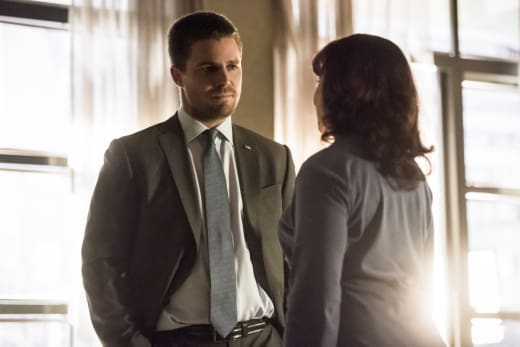 Seriously, Arrow Fanatics, this trailer has something for everyone. There is just too much going on to list here, so have a look at the full sizzle reel and join us in the comments with your thoughts on it. 
Remember you can watch Arrow online right here via TV Fanatic. Get caught up on all the action before the new episodes debut on Thursday!