Arrow Season 7 Sneak Peek: This Is Someone New

Carissa Pavlica at . Updated at .
Alright Arrow Fanatics, the time has come to look into our crystal balls for a view of Arrow Season 7.
Can we assume by the trailer we're looking at a five-month time jump when we get back to Star City? That's about normal time, so it fits.
Poor Oliver isn't having the best time of it while inside prison walls.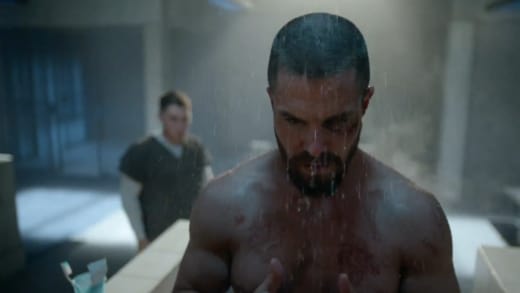 During the Comic-Con panel, Amell said:
"The coolest thing about the premiere for me is… there's nothing about him that's heroic at all. If you're a fan of the character and you root for the character, I really hope the premiere pisses you off," he added.
Related: The CW's DC TV Trailer Teases Batwoman's Arrival!
"I really enjoy it. There's one scene in particular in the premiere where what Oliver does is reprehensible."
I have a feeling that scene might be in the trailer ... right after Diggle digs him about the Oliver he knows not usually being one who doesn't fight back. Oops?
Laurel is the one who assures the audience of the anti-vigilantism laws in place as she addresses a crowd of reporters.
I'll make the assumption that Siren is continuing with her "redemption" by stepping right into OG Laurel's shoes as an attorney and perhaps District Attorney. There aren't many people left to argue the point that she isn't who she says she is.
Related: Batwoman TV Series in Development at The CW 
And even though our characters flit from Star City to Central City in a Flash, news apparently doesn't travel as fast given their differing knowledge of all things from town to town. Doppelwho?
OK. So Black Siren is a good girl now. That redemption arc is sillier than the world considered OG's ascension to Black Canary. Just sayin'.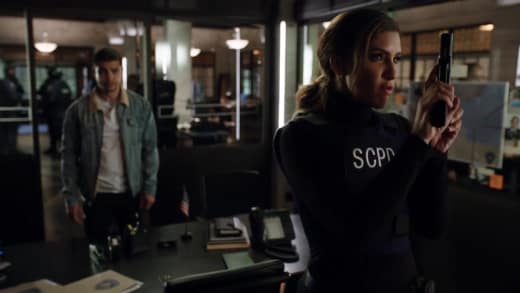 But the new Canary is wearing her badge and wants to clean the streets using traditional methods, a sentiment it doesn't seem Rene agrees with as he is heard talking about the legacy Oliver left to them.
That leaves Rene as one of the options for who is donning the green suit we see at the end of the reel. We know it's not Oliver, him being otherwise occupied inside bars and all.
Related: Arrow Season 7 Synopsis Teases a Major New Villain
But we don't see Colton Haynes in the reel, either, and we know he's an archer. All bets are on his reappearance to take over the helm as the Green Arrow, right?
Even Haynes kind of gave away his views during the panel:
"He's not the same person. It's going to be very, very interesting. That's all I can say. [EP] Beth [Schwartz] did — she's a genius, so she wrote me a version of the character that just was so special. It's going to be hard for me to do, but I'm going to be happy to do it. I'm so excited to come back."
Meanwhile, Felicity and William are out in the woods, quite literally it appears, running for their lives. 
Weren't there going to be people protecting them while Oliver was in prison?
Related: Legacy: Green Arrow Comic Canon vs CW Arrow
That doesn't seem to have turned out as well as one would have hoped because just before you see William doing the crab scramble away from Felicity, there appears Diaz spouting he's hoping to ruin Oliver's life from the outside in.
So much for witness protection. They would have been better sticking around their home turf.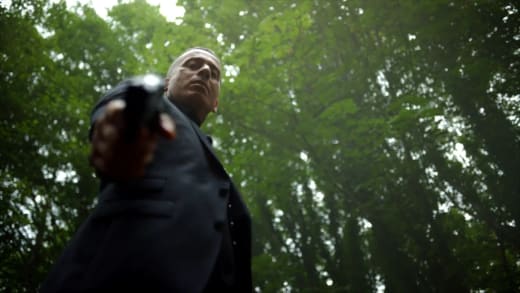 As for what Schwartz will contribute to the festivities with her new role as EP, she had this to say:
"I've been on the show since Season 1, so I've been here for a long, so it's not going to be a new show but I'm definitely putting a new spin on it. It's dark.
Related: Arrow Season 6 Episode 23 Review: Life Sentence
I guess I've missed the more jovial seasons recently. The last funny thing I remember was Felicity flying in Ray's ATOM suit, and that wasn't intentional.
Watch the trailer and share your thoughts about what's upcoming. Does it look better than the infighting of Arrow Season 6? 
You can watch Arrow online if you need to know what this article is referencing. Get with the game!