Designated Survivor Promo: A Pissed Off POTUS!!

Jasmine Blu at .
Kirkman's entire world is unraveling at the seams, and he's at his wit's end.
On Designated Survivor Season 2 Episode 7, no one will be spared from President Kirkman's wrath.
The revelation that his mentor, adviser, and friend, Secretary Cornelius Moss, may be behind Charlotte Thorne's murder is enough to have Tom questioning everything he knows. 
Processing that betrayal is difficult in its own right when once again, a guilty party is within the walls of the White House.
Kirkman also has to deal with the fact that his wife, Alex, may be charged with obstruction. 
Eva dropped a bomb when she admitted that she lied about not seeing Eric Little in 30 years.
Was she aware that she jeopardized her daughter by omitting that detail? 
Alex is under fire after stating that her mother wasn't in contact with him. If she's under fire then Kirkman is as well.
Remember Leo, Kirkman's teenage son with a penchant for trouble? Well, it seems the show is finally remembering him, too. 
Where has he been all this time? We'll soon find out, but not under the best of circumstances. 
Someone will attack Leo, and an attack against President Kirkman's kid is an attack against him.
He's being hit from all angles, and his family is under attack at every turn. He's becoming increasingly frustrated with his limited power.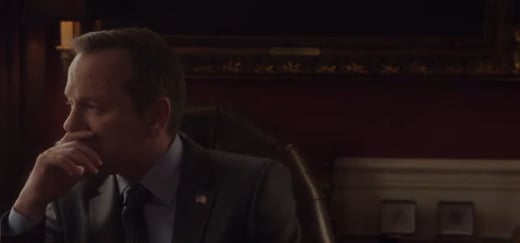 Will he finally snap? From the previews, it looks like Kirkman may have a little Jack Bauer in him after all.
Designated Survivor returns with an all-new episode on November 15. Until then, you can watch Designated Survivor online here via TV Fanatic.
Check out the promo for "Family Ties" below!