Is it November 28th yet?
If this promo doesn't get you prepared to watch all four episodes involved in the DC 4-night event on The CW, beginning with Supergirl on November 28, then I don't know what else can be done.
Maybe you just don't find much exciting. Ever. You're boring.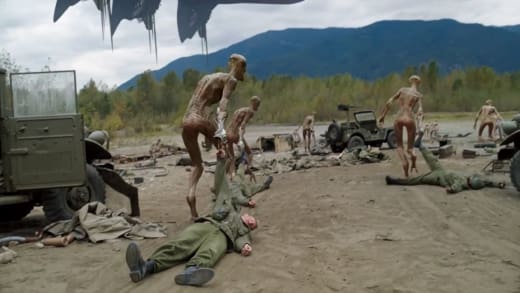 The Dominators need to wipe out humanity to keep the scourge from reaching their planet and any others that may be violated.
Honestly? It's hard to blame them. Even given the heroic bunch out to save the day, they've made some pretty questionable choices. The way Legends of Tomorrow's Mick introduces himself to Supergirl is enough the scare the crap out of anyone who doesn't know him well.
And I can't have possibly been the only one who was wondering why Oliver will have his very odd day of living an alternative life on Arrow's portion of "Invasion," but since he's shown in an alien pod, I think we can come to our own conclusion now.
The Flash says some fairly questionable things, too. Why is he thanking everyone, telling them it's up to them to save the world now and bye? 
What's going on with Barry Allen?
It's good to see the entire team up and ready to fight when they're called, though, and it should be exciting to witness every one of them giving their best.
What are you most excited about? And let me ask again...will you be watching all four of the episodes now? 
How about NOW?