Mr. Mercedes Trailer: The Virus Needs to be Eradicated

Carissa Pavlica at .
If Kingdom wasn't enough to get you to purchase a subscription to DirecTV Now, then maybe this will do the trick.
Mr. Mercedes is coming to the small screen via the Audience Network, available on DIRECTV, AT&T U-verse, and DIRECTV NOW.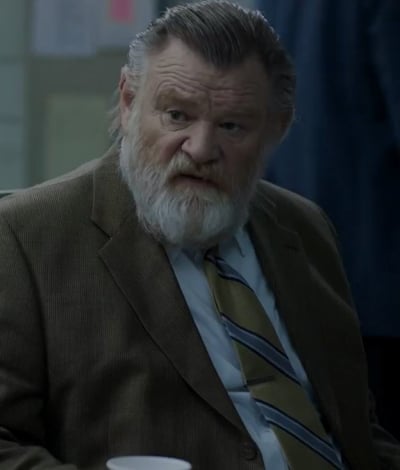 Mr. Mercedes is based on the best-selling novel by Stephen King.
David E. Kelley (Big Little Lies, Boston Legal, and Ally McBeal,) wrote and adapted for television and Jack Bender (Lost, Under the Dome, Game of Thrones) directed multiple episodes. 
Mr. Mercedes features an all-star cast including the stellar Brendan Gleeson (Harry Potter) as Detective Bill Hodges. He's worth the watch alone, but he certainly doesn't find himself that way here.
Other stars include Harry Treadaway (Penny Dreadful) as Brady Hartsfield, Kelly Lynch (Magic City) as Deborah Hartsfield, Jharrel Jerome (Moonlight) as Jerome Robinson, Scott Lawrence (Avatar) as Detective Peter Dixon and Robert Stanton (Mercury Rising) as Anthony Robi Frobisher.
But because that's not enough, even more stars are featured, such as Breeda Wool (UnREAL)as Lou Linklatter, Justine Lupe (Francis Ha) as Holly Gibney, and Ann Cusack (Nightcrawler) as Olivia Trelawney, with Mary Louise-Parker (Weeds) as Janey Patterson, and Holland Taylor (The Truman Show) as Ida Silver.
Mr. Mercedes follows a demented killer Brady Hartsfield who taunts a retired police detective Bill Hodges with a series of lurid letters and emails, forcing the ex-cop to undertake a private, and potentially felonious, crusade to bring the killer to justice before he is able to strike again.
Stephen King describes Mr. Mercedes as his first hard-boiled detective tale.
The novel was published by Scribner in June 2014 and became an immediate No. 1 New York Times Bestseller upon its release.
Shortly after the release of the novel, King announced that Mr. Mercedes was the first of a projected trilogy. The second novel, Finders Keepers, was published by June 2015, and the third novel, End of Watch, was published in June 2016.
There is plenty of material to keep this story going for a good, long time.
If this cast is willing to stick around, I'll certainly be watching. Will you?
With this group on board, Mr. Mercedes might power Audience Network through to its first Emmy Nominations in upcoming years. 
If nothing else, it could very well make our Emmy Snubs slideshow, and that would be a shame.
Check out the trailer below and give me a holler in the comments. Does this look like a winner?