Outlander Season 3 Trailer: So Much Pain in This Romance!!

Carissa Pavlica at . Updated at .
The torment ahead for all involved with Outlander Season 3 is going to be unbearable.
That included Claire, Jamie, Frank, Brianna and even the fans. 
The wait has been torture, and from the latest trailer, watching will be torturous, as well.
We know Claire and Jamie are apart. 
We know Claire has already decided to make a go of her marriage to Frank so they could raise Brianna together as their own.
And we know Claire's heart will never be reunited with Frank's no matter how much love he showers on her or how many other emotional bargains he attempts to make with her on his behalf.
But darn it, it's still sometimes hard to reconcile the amazing talent of Tobias Menzies in his two roles of Frank and Blackjack Randall.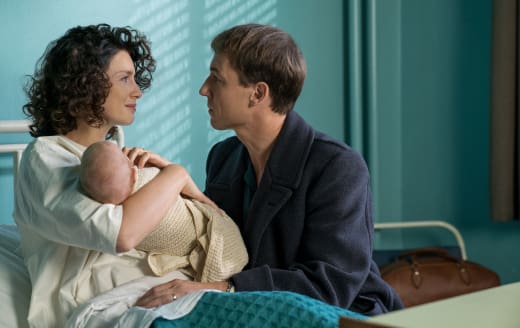 Watching Frank's pain as he wants so badly to reconnect with Claire in the trailer below breaks my heart. All the kudos to Caitriona Balfe for her ability to remain steadfast and strong as Claire refuses to waver in her love for Jamie.
But what about Jamie?
We're not getting quite the same details of his life after Claire and after Culloden. We're seeing him engage in lovemaking with another woman.
Say it ain't so, Jamie!!
Certainly, it isn't any easier for him to move on, but why is he? From what we know, he has found a way to move through the stones, too.
After all, he was standing right in front of Frank on Outlander Season 1 Episode 1, wasn't he?
What will it all mean when Claire walks up to the door and rings that bell, once again back in time wanting the boy to love the girl again?
Something tells me it's not going to be as easy as assuming their lives. That's not how the romance novels go, is it?
Sunday, September 10 at 8/7c on Starz. That's when we'll have some more answers and being to see the urgency of the situations unfold before our eyes.
Until then, relive the magic when you watch Outlander online.