After what feels like an eternity, we will finally get to catch up with the Sky People in just under two months. 
The CW has finally lifted the lid on the trailer for The 100 Season 4 and it looks pretty damn awesome.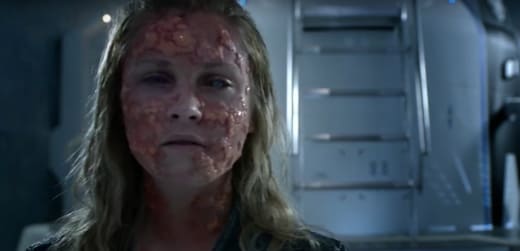 The 100 Season 3 ended with the group taking down Alie, but the drama was far from over when it was revealed that earth could actually be dying. 
Now, it sure looks like we'll be losing a lot more of our favorite characters as they try to come to terms with the fact that radiation is well and truly coming for them.
Being a leader, Clarke has overcome many obstacles throughout the last three seasons, but it now looks like a lot more people are against her in the wake of what went down at the City of Light. 
Clarke wants to do what's right for her people, even if that means getting under their skin. It looks like there's going to be a whole lot of fractures in the group as they decide the best course of action. 
Also, Roan looks like he's going to be playing a much bigger role this season. I mean, he was so under utilized last year that even a little bit more screen time would be great. 
Then there's Octavia who looks better than ever. She's genuinely embracing that Grounder look and I can't wait to see how that pans out for her. 
If you only watch The 100 for Bellarke, then you may be in for a treat since the pair appear to be putting their differences aside in order to do what's right for their people. 
Though, that could be thrown in question based on Clarke having a face that pretty much confirms she gets radiation poisoning at some point. 
Have a look at the full trailer below and sound off in the comments what you think about it. 
Remember you can watch The 100 online to get caught up with the latest drama.