The Blacklist Promo: Like Father, Like Daughter!

Lisa Babick at . Updated at .
At the end of The Blacklist Season 4, Red lost everything because of Mr. Kaplan.
Now that Mr. Kaplan is dead, Red is going to have to rebuild.
And guess who's going to help him?!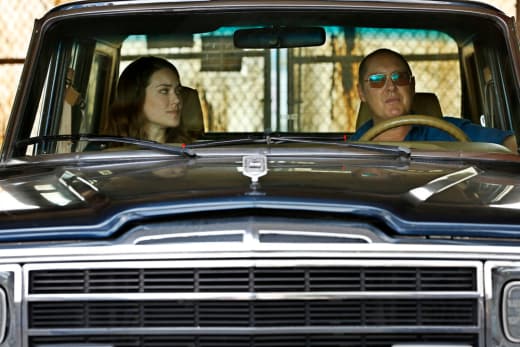 That's right! Liz tells Red straight out that she's going to help him rebuild his empire! 
So does this mean she's going to quit the Task Force and become completely immersed in her father's criminal activities?
It's going to be tough for her to play both sides, but, then again, she's Elizabeth Keen. She's been trained by Red and Tom for four years. 
She knows the game and she's going to play it.  Although it could be she's going to work against Red under the premise that she's going to help him.
She and Tom might have a different plan, but we're hoping she's on up and up with helping Red. After four years of wondering, we want a Red and Liz partnership more than ever. 
But what does it all mean for the rest of the team? Will this become a cat and mouse game between The Task Force and The New Reddington Team?
What will happen to Ressler? What about Samar and Aram? Cooper?
There are so many different ways The Blacklist Season 5 can go, and we can't wait to see what happens.
One other thing. We hope the rug isn't pulled out from under us. Now that it's been established that Red is Liz's dad, let's keep it that way.
And, please, don't tell us that Red is really Katarina Rostova. That would be the worst plot twist in the world. 
Photos for the Blacklist Season 5 Episode 1 have been released. If you haven't checked them out you can see them here.
Check out the Red and Liz video fest below and let us know what you think will happen this season. 
There still time to watch The Blacklist online and catch up with everything that's happened so far.