Who said superheroes can't celebrate before getting married?
On The Flash Season 4 Episode 5, Felicity Smoak stops by to help Iris celebrate her bachelorette party, and the ladies find themselves in quite the predicament. 
A man shows up, and they immediately assume he's a stripper, so one of the gals politely ask him to take his clothing off. In return, the man's eye pops out and lands in one of their drinks. 
Before we know it, the ladies have the table turned on its side and prepare to go to war with the man who seems intent on ruining their night. 
Meanwhile, Barry is at his bachelor party and gets wasted. He gets so wasted that he refers to himself as The Flash in public. Yes, that will not be ending well.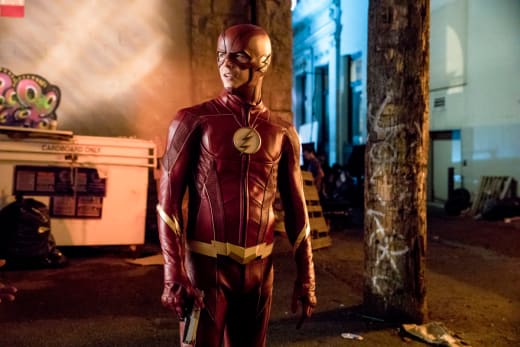 Joe tries to make sure the husband-to-be does not reveal his secret and stays out of trouble, but this party does seem a little more subdued than the other. 
Enter Katee Sackhoff who will be playing a villain and is sure to cause some drama for everyone as they try to have fun. 
Have a look at the full teaser below and join us in the comments with your thoughts on it. 
Be sure to return here on Tuesday night as we run down the best and worst of the episode in our full review!
Remember you can watch The Flash online right here via TV Fanatic. Get caught up right now!