The Orville is a live-action, one-hour, ensemble comedic drama set 400 years in the future that follows the adventures of The Orville, a mid-level exploratory spaceship, as its crew, both human and alien, face the wonders and dangers of outer space, while also dealing with the familiar, often humorous problems of everyday life.
So, maybe a Star Trek parody?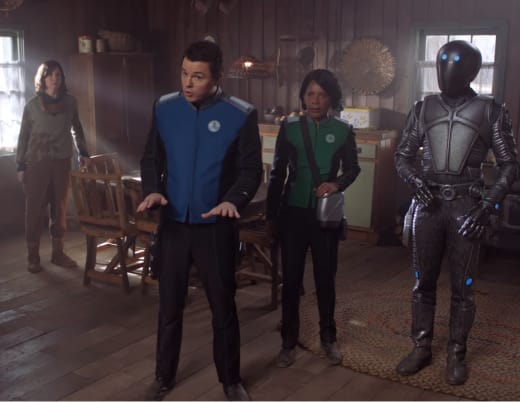 We already know Seth McFarlane from his work in movies and behind the scenes on so many great 'toons, and his comedic timing is pretty great. 
This looks incredibly goofy but has a kickass cast. That means just the right amount of goof will make it a lot of fun if you go into it with the right attitude.
I see Scott Grimes and Adrianne Palicki and know Chad L. Coleman is supposed to be a part of the cast, as well. Who doesn't want to see all that, plus globs of goo hanging around the ship?
And they are moving forward with things we can only dream about, like the anti-banana ray.
We no longer need to fear the banana.
Whew!
Willing to give this one a shot based on the trailer? The cast? The crew?
Produced by 20th Century Fox Television. From writer/executive producer Seth MacFarlane and executive producers Brannon Braga, David A. Goodman, Jason Clark, and Liz Heldens.
Let us know in the comments!