Not every writer comes across as a superhero in his own right, but Ben Edlund has always been that guy.
Part of his mystique is due to his comic, The Tick, which has been a live action series once before to great acclaim.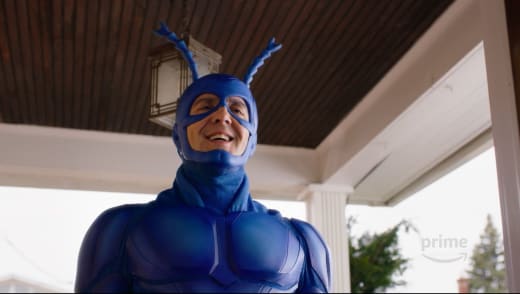 Now Amazon has resurrected Edlund's brilliance with another live action series, this one featuring Peter Serafinowicz, Griffin Newman, Valorie Curry, Jackie Earle Haley, Yara Martinez, Brendan Hines, Scott Speiser and Michael Cerveris.
Who the heck IS The Tick, anyway?
Well, that's what we aim to find out. As does underdog accountant, Arthur Everest, a man with no powers who comes to realized his city is owned by a global super villain long thought dead. 
As he struggles to uncover this conspiracy, he falls in league with a strange blue superhero...The Tick!
But you have to wonder exactly what The Tick offers other than bold confidence. 
After all, when someone asks if he can fly, he makes a hard landing on the pavement. At least he tried!
Other times, he just laughs outright at their suggestions of power and says no, he cannot do what they've asked.
Perhaps the lesson will be that all it takes to stop evil is a strong will, a loving heart and a cool suit. Oh, and lots of hugs.
Amazon is going all out for its first superhero series, and it should. It's taking San Diego Comic-Con 2017 by storm.
"Citizens" will have the opportunity to immerse themselves in world of The Tick at Amazon Prime Video's Tick Takeover, a movie set level design experience positioned directly across from the San Diego Convention Center on MLK Promenade (on the corner of 1st and J streets).
With fully built out buildings from "The City," a twenty-foot tall animatronic Tick head, and "Easter eggs" harkening back to the show, The Tick Takeover is poised to give fans the journey of a lifetime.
Additional details include a unique queueing experience, challenge-based scavenger hunt and the Amazon Prime Member Lounge.
In addition to the activation, Con attendees will be able to call upon the #TeamTick street team for help when they are in a bind.
Need help with that selfie? Have a painful blister? Have no fear… Team Tick is here!
In true Tick form, Team Tick will be taking to the streets of San Diego helping the helpless and defending the defenseless.
Citizens seeking assistance from the street team need only flag down a member of Team Tick, adorned with blue antenna, to get help.
Before watching the trailer below, I urge you to sign up for Amazon Prime, because it's the only way you're going to see The Tick.