I think you either love The Big Bang Theory or you don't.
Unfortunately, I'm in the latter category. I don't get the humor. At all. Maybe I'll grow to love it the natural way!!
So this cute young kid from Big Little Lies (Ian Armitage) is taking Sheldon "Shelly" Cooper for a spin and seeing what sticks. Fear not, because there's no shortage of his grown-up self, either, via voiceovers.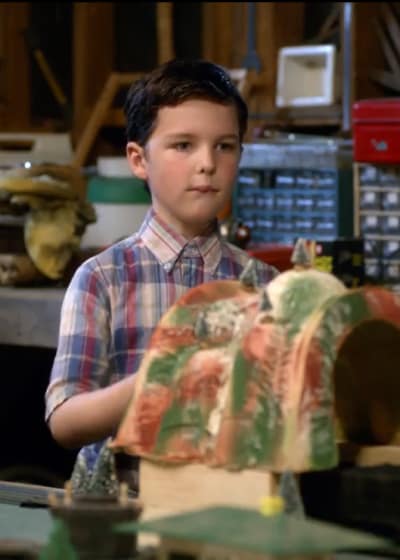 It's 1989, and we meet nine-year-old Sheldon Cooper, the beloved character from The Big Bang Theory, who has skipped four grades to start high school alongside his less-intellectual older brother.
We get a peek into the early years–with voiceover from Jim Parsons–of a genius who is misunderstood by his family, classmates and neighbors.
His mother preps him with what she thinks is the only tool he'll need to survive at his new school: remind bullies that his dad's the football coach and his brother plays on the team.
His twin sister, who's happy to stay in fourth grade, has a better sense of what awaits Sheldon than he does.
Young Sheldon may understand Newtonian physics, but his blue-collar, church-going family only cares if that knowledge will help them win a football game.
My favorite line from the trailer has to accompany the photo below...Maybe I'll start a fad. It is the most like his older counterpart and reminiscent of Jim Parsons voice inflections in the role.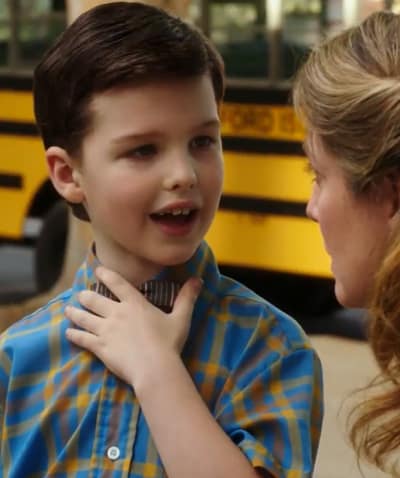 My favorite scene in the trailer is Shelly finding common ground with his fired father and clasping his hand at dinner for the first time. Very sweet.
The series, which also stars Zoe Perry, Lance Barber, Raegan Revord and Montana Jordan, will air following The Big Bang Theory on Thursday nights at the conclusion of the football season.
Now you need to tell me what you think of this one.
Is there ever enough Sheldon? Can there be too much Sheldon?
Were the voiceovers necessary? Would you have associated young Shelly with the TBBT character if not for the voiceovers?
What was your favorite part of the trailer?
I'm ready to hear your thoughts on the matter! Cut loose in the comments below!!