On this week's episode of The Big Bang Theory, there was nothing nerdy about the generic sitcom plot line of Leonard and Sheldon's apartment being broken into.
We've come to rely on TBBT to have eccentric plotlines or at least eccentric reactions courtesy of the shows four geniuses, but this week's episode, "The Bozeman Reaction," was a bit of an exception.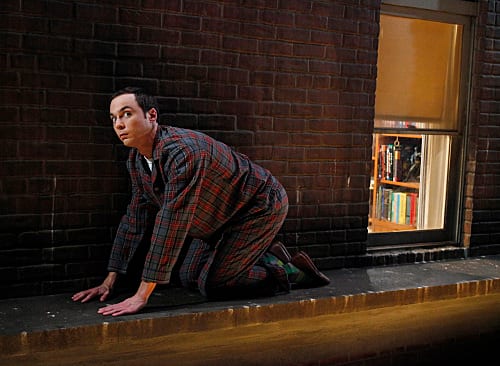 Other than the guys building a Home Alone-esque security system that included dropping a net on potential bad guys, they had a fairly typical response to a break-in.  While Leonard seemed indifferent (possibly because he had a Penny to help him forget about his woes), Sheldon had a suprisingly normal response to a break-in.
The poor guy had his personal space violated, so the idea of him taking off to a safer city wasn't a typical, crazy Sheldon response.  We would have rather the show have taken a unique angle with his plotline that its characters allow them too.  I could have gone for more Sheldon and Leonard as a Holmes and Watson team as they searched for the criminals using more soda can clues.
Luckily, the half hour was basically a one-man show for its strongest character, Sheldon, and he was still able to carry the comedy, despite a lame plot.  Overall, it was a bit of a mediocre episode, but still kept us entertained with some of the following Big Bang Theory quotes, including a very obvious Microsoft plug:
Sheldon: You know, the more I think about it, the "mobster sauce" couldn't possibly contain chunks of mobster.
Leonard: And why is that?
Sheldon: It was listed under "Seafood."
Leonard: Maybe they were mobsters who "slept with the fishes." | permalink
Sheldon: I'm not crazy; my mother had me tested. | permalink
Sheldon: My new computer came with Windows 7. Windows 7 is much more user-friendly than Windows Vista. I don't like that. | permalink
Sheldon: The four of you are three of my closest friends, and one treasured acquaintance. | permalink
Eric Hochberger is the programmer of TV Fanatic, so please forgive his mediocre writing. His programming is far better. Follow him on Twitter and/or email him. Just don't request threaded comments. They're coming.