NCIS provided us with two mysteries last night: Why the dead Marine changed his identity and who murdered him, and why Ducky departed from his signature neck wear.
Check out our NCIS review for our critic's take on "Double Identity." Below, three staff members delve deeper into Tuesday's episode in our weekly Round Table Q&A  ...
1. How would you rate last night's episode overall?

The Barnacle: 4.5 out of 5. There was certainly enough going on, as well as great moments in the office from beginning to end. I'm glad my desk isn't near Tony's, though.
L.J. Gibbs: 4.5 out of 5. This one had an old-school feel, melding a complex case with personal angst among the characters that unfolded in perfectly nuanced fashion.
M.L. House: 5 out of 5. Vintage NCIS.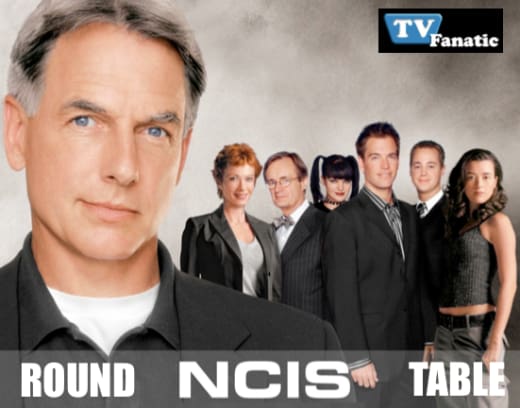 2. Were you able to guess the ending of the murder plot?

M.L. House: The P.I.'s involvement made perfect sense ... you've gotta be pretty shady yourself to track down shady characters. The fact that Maine's first wife was having an affair with his former compatriot was a crazy twist, though.
L.J. Gibbs: I did not, although in retrospect, clues were planted throughout as they often are. I suppose the guilty party didn't come as a huge surprise, but the extent to which the characters, along with their respective back stories, were tied together was impressive.
The Barnacle: No. Great misdirection with Tony trying to convince us (and his co-workers) that the wife did it. The wife always did it in Tony's mind. Sometimes he's even right!
3. What's cuter: A smitten Ducky, or Abby and her seeing-eye puppy?

L.J. Gibbs: Since Nina Foch, who previously played Ducky's mom, passed away in 2008, you knew this was coming at some point, and I loved how it was handled. Very heartwarming and strikingly realistic, with so many emotions manifesting themselves at once.
M.L. House: Tie, because Abby and Ducky's scene at the grave site was my favorite. You could tell he missed her terribly, but was excited to turn the page. Very real life moment.
The Barnacle: Team Mortimer all the way.
4. Did you enjoy a week off from Tiva and/or Gibbs-Hart developments?

L.J. Gibbs: Definitely. The subtleties that make NCIS so good were back this week, and made for one of the better episodes of the season without what sometimes are distractions.
M.L. House: Much as I've enjoyed watching aforementioned relationships unfold, it was nice to see some quality McGee-Ziva, Gibbs-Ducky and Abby-Ducky interactions this week.
The Barnacle: Gibbs-Hart I can take or leave, but I love me some Tiva.
What did you think of the episode? Share your comments with us!
Steve Marsi is the Managing Editor of TV Fanatic. Follow him on Google+ or email him here.