Tuesday's NCIS, "Moonlighting," featured a (possibly) familiar face from the office who's been working a side job as a polygraph specialist at a private security company.
Yup, McGee's girl. The one who made him re-take his test countless times just to keep seeing him. "Moonlighting" is also a fitting title as it applied to the case at stake.
The murder of a Navy petty officer turned out to be merely a case of being in the wrong place at the wrong time, but soon led Gibbs to mob informant Stefano Delmar.
Gibbs and his FBI counterpart Fornell, who is always great, started following clues, many of which led to the aforementioned, slightly nutty polygrapher Susan Grady.
An explosion outside Cooper's Hawk Security, where she worked, as well as her own admission that she stole data from the company, were suspicious to say the least.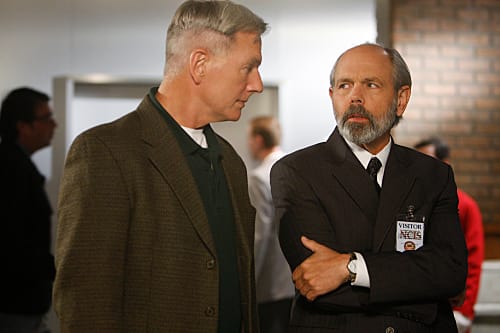 CRIME-FIGHTING ODD COUPLE: You could say Gibbs and Fornell act like a married couple ... although as Gibbs pointed out, that couldn't be the case, as they're still on speaking terms.
The great twist was that as odd as Susan's behavior was, and as frightening as the explosion looked, neither related to the murder mystery in the way we were led to believe.
Introduced for just one scene earlier, the judge was not a suspect we saw coming at all, but through his reasoning and process of elimination, Gibbs tied her to the murders.
It turns out she couldn't live with the fact that mob witnesses were allowed to effectively walk for murder just by ratting out bigger mob figures, and arranged their demise.
Judges being put through polygraphs as part of the judicial confirmation process makes sense, although it was surprising that she consented, especially with Gibbs present.
With a little trickery to unnerve the redhead (of course), they got their killer.
Totally unexpected, yet it fell into place extremely well. As for Susan, she remains an oddball, an enigma that even Tony can't figure out. Not that Tony is an expert, but ...
Self-deprecating one minute, evasive the next, then totally forward and ultimately playing hard to get, she was a puzzler for both Tony and McGee, her supposed love interest.
Speaking of McGee love interests, Abby was far from pleased to let Susan crash in her lab while NCIS held her ... could there be something there? NCIS needs to explore this.
The best scene of the episode was Gibbs' own polygraph, which he refused to continue the test when asked if he had ever committed a felony. Rather than lie, he walked away.
In his mind, he flashed back to killing the man responsible for the tragic deaths of Shannon and Kelly - not Saleem in the Season 7 premiere as we erroneously posted earlier.
Thanks to the readers who pointed out this mistake. The flashback definitely made us wonder if there were other instances where our man simply did what he had to do.
If so, Leroy Jethro Gibbs would rather keep them to himself.
Random thoughts and observations:
Does McGee seem a little too cool to be obsessed with video games? Sure, he's got a nerdy side, but he's a cool dude. This seems more like Palmer's domain.
Speaking of Palmer, there was a heavy dose of Jimmy last night. Things seem to be going well with his girlfriend ... though that henna picture was frightening.
Top lines of the night go out to Ziva mixing up "Shamu" and "snafu," and Tim saying he'd rather "get a lap dance from a nun" than take Tony's dating advice.
Fornell's comment on Gibbs' extreme coffee intake was great. We thought no one noticed! Gibbs returning the favor with the beard jokes? Also priceless.
What did you think of last night's NCIS? Comment below!
Steve Marsi is the Managing Editor of TV Fanatic. Follow him on Google+ or email him here.