Ugly Betty Review: "The Past Presents the Future"
at .
With only one more episode left - ever! - Ugly Betty is doing a great job wrapping up all the loose ends.
Each minute of "The Past Presents the Future" either had us laughing, smiling, holding our breaths, or crying.
First off - if you haven't watched it - Go watch it NOW!
Secondly - Yay!!! We KNEW Daniel had feelings for Betty all along!
Our only one disappointment would be why it took him so long to figure it out - and how come Betty doesn't realize it yet?!
Our hearts just melted into a puddle of sap when Daniel looked over at Betty when Hilda was giving her speech:
Hilda: That's love right - when you know somebody better than they do and you would do anything in the world to protect them. | permalink
If Betty looked over at Daniel - at the same time - that would have made it perfect! Oh well, I guess we will just have to wait until next week when Daniel rushes to London to proclaim his love for her (Very SATC, but we don't care! We love it!!!).
Are YOU excited that Daniel has feelings for Betty? Do you think they will end up together?!
How great is Marc? (And how great was his hair at the wedding!) He really came through for the entire Suarez family this week. It would have been a s**t storm if Justin walked into the gay welcoming surprise party Hilda and Ignacio set up for him. And it was super cute watching Amanda and Marc almost shed a tear when they saw Justin come out to the entire wedding party.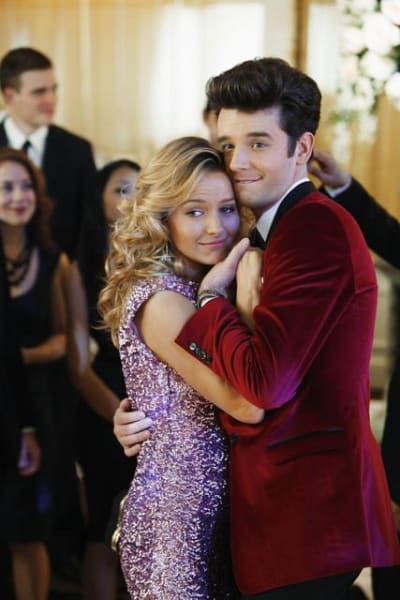 It really hit home for us when Betty realized that maybe her family doesn't need her as much as she thought - and in reality it was really her needing them. What a big move to accept the job in London. Do you think she will stay or go? What would you want her to do?
We are very sad to see this funny, hip, original show come to an end, but we can't wait to see what happens next week!
What did you make out of this week's episode? How do you predict things will end next week? Follow the jump to see our favorite Ugly Betty quotes!
Amanda: Don't cry - makes you look like a girl. | permalink
Betty: Sometimes I feel like I have to take care of everyone, but look at them. | permalink
Hilda: (to Marc) Did anyone ever tell you that you're a really good person. | permalink
Amanda: Spencer - Marc - Silver Fox - Purple Ferret. | permalink
Hilda: This is the happiest day of my life - alright, lets do this b***h! | permalink
Betty: I don't know what road I am on, but it is totally new. | permalink