There's a new football coach. A new relationship. A new rivalry within New Directions and new songs for fans to download.
But the originality, humor and emotion of Glee remains, as proven in "Audition," the second season premiere that set up a slew of fresh storylines for viewers to ponder and grow excited over.
In the unusual, meta opening to the episode, Glee winked at its audience and actually addressed negative opinions of the show (such as many critics' belief that Will should never rap ever again), concluding with Kurt telling bloggers to basically get a life. But the one issue left untouched was the fact that the series often focuses more on songs, jokes and life lessons than logical, interesting storytelling.
That wasn't the case on this installment, however, as we have plenty going on at William McKinley to consider. For example...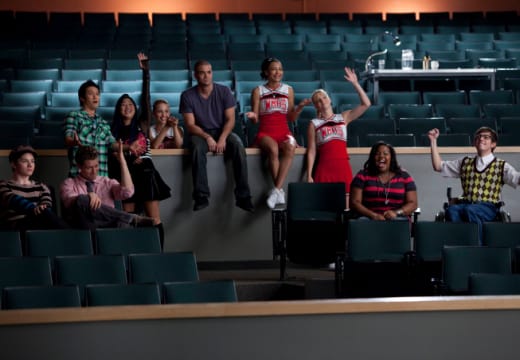 Welcome new singers... sort of. Which character made a better first impression on you, Sam or Sunshine? Both were considered potential new members of the group, only for concerns about image and Rachel (along with a few recruiting gifts from Vocal Adrenaline) to take over.
It's safe to assume Sam will end up with New Directions, but will Sunshine (played by Charice, a controversial choice for many viewers) remain a rival? And, if so, will Kurt, Mercedes and company ever really forgive Rachel? Finn better really talk to his girlfriend and explain how being part of a team works. Even the most talented superstars need help sometimes (right, LeBron James?).
Girl fight!
Welcome back, bitchy Quinn! This may have been my favorite development of the premiere. First, Sue's speech to Santana about her breast implants was downright hilarious (sorry, Boobs McGee, it's true). Second, Quinn had grown a bit soft in her pregnant state. Every high school show needs a Queen Bee.
Third, Ryan Murphy has talked about giving more time to supporting characters and we certainly got that this week, with a couple lines from Mike (who got cozy with Tina at Asian camp, much to Artie's chagrin), more great one-liners from Brittany ("Stop the violence.") and this scene between Santana and Quinn.
She's a Beiste! Bravo to Glee for introducing a new character, giving her a realistic storyline and making us feel something for her... all within one hour. While I don't wish mental breakdowns on anyone (feel better, Ken!), Coach Beiste looks to be an ideal foil for Sue. The latter is at her funniest when in full-on combat mode.
It also makes sense that the school would boost the funding for the football team, as that squad typically brings in the most money. This should serve as an interesting storyline throughout the season.
Other notes from a fantastic premiere:
It's cute that Finn is dim-witted and all - but he legitimately thought it was a good idea (heck, a legal idea) to push a wheelchair into opponents on the football field?!? Come on. Let's not make the guy a total moron here.
The Rachel/Sunshine duet might already be in my all-time top-five, mostly due to the talent of the actress' singing, partially due to the smoke you could practically see coming out of Rachel's ears, and a tiny bit due to the way it ended, courtesy of Sue: "SHUT UP!"
Speaking of duets and songs, remember: we update our Glee music section as soon as an episode concludes. Check out the latest selections NOW.
No Emma or Terri to open the season. You can guess which of these past/current love interests for Will we missed more, right?
What did you think of the premiere, Gleeks?
Matt Richenthal is the Editor in Chief of TV Fanatic. Follow him on Twitter and on Google+.