After an extremely disappointing second part (or third if you're a douche and count season thirteen's "The Coon"), we were glad to get an entertaining, fitting finish to the Coon trilogy series with "Coon vs. Coon & Friends."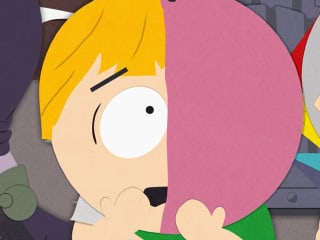 The episode dropped all the things we hated about the first two parts (read Captain Hindsight) and got rid of the pointless fluff that was last week's episode, and just delivered a solid, fun half hour.
While we prefer the political and social satires that South Park normally brings each week, this little bit of fan fare worked for us for a number of reasons in the end:
They killed Justin Bieber.  By popping off his head.  'Nuff said.
Fine, that wouldn't be a review if we ended there.
How about Cartman made the world a better place by destroying San Francisco, Burning Man, the aforementioned Bieber, Whole Foods and all synagogues?
Oh wait, that last one was so not cool.  Nor was calling Kyle the Human Kike.
But the part that makes it cool?  Cartman, like most super-villains, believed he truly was making the world a better place.
The twist ending that Mint Berry Crunch had super powers and saved the day.
The fact that Bradley was the fat goth chick's little brother. "F**k you, I have powers, you fat bitch!"
We feel compelled to discuss Kenny slash Mysterion's power outside of a mere bullet point.  So the way they handled it certainly fits within South Park mythology, minus the fact there have been some episodes were the boys acknowledged Kenny's death.
They purposely left some hilarious unanswered questions, like how baby Kenny turns into full blown Kenny at the same age and with the same memory.  That we're okay with.  We'll just chalk it up to the Cult of Cthulhu.
So was the free beer worth popping out a kid every week?  Sure, just ask any woman on welfare in the ghetto.  Snap.
You know where to find our favorite South Park quotes from the episode.
Eric Hochberger is the programmer of TV Fanatic, so please forgive his mediocre writing. His programming is far better. Follow him on Twitter and/or email him. Just don't request threaded comments. They're coming.