The Big Bang Theory Review: "The Boyfriend Complexity"

Eric Hochberger at .
It's strange.  Usually my biggest complaint about The Big Bang Theory this season has been that the show has been going the route of generic sitcom in lieu of the nerdy story lines.
Yet this week's "The Boyfriend Complexity" featured one of the most generic non-nerdy stories yet, and somehow it ranks as my favorite of the season.  In the main adventure, Leonard pretended to be Penny's boyfriend in order to make her father, Wyatt (Keith Carradine) happy and off her back.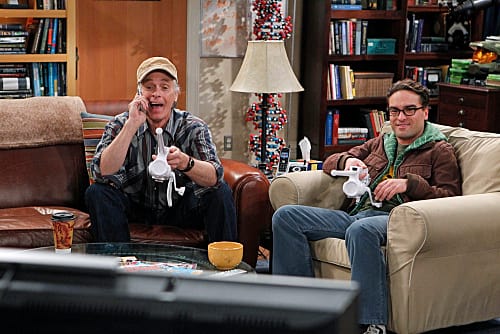 Somehow with Leonard at the helm and Sheldon in the back seat, the A story had plenty of laugh out loud moments.  Carradine killed it as Wyatt.  Some of his best moments were recounting hilarious Penny ex-boyfriends.  What kind of guys did you date!? Just guys.
Definitely the highlight of Wyatt was the somewhat predictable twist ending of him pretending to yell at Leonard and begging him to get back with his daughter.  The poor guy just wants hid grandkids to grow up in a house without wheels.  Plus, the dude really must have enjoyed Wii fishing.
It's not that Sheldon didn't still bring plenty of laughs.  The guy spend the episode being kept out of the loop for obvious reasons, and his reactions and alterations to the roommate agreement were fantastic. 
It was just really impressive to see the show let the other characters bring their A game.  Speaking of other characters, it was also nice to get a break from Amy as the newly promoted series regular, Mayim Bialik, took a week off.
Conversely, Melissa Rauch was amazing as usual.  She brings a unique, funny quirkiness to her character, all while hiding it behind a cute face and personality. 
She helped keep the scenes with Wolowitz and Raj entertaining and eventually contributed to their incredibly awkward, painful kiss. Did you get to play with his big telescope?
Overall, it was a very funny, consistent episode of TBBT - and what more can you ask out of your weekly sitcom?  Nothing was too clever or out of the ordinary, but that's not what this show has become.  Go turn change the channel to NBC and watch Community if you're looking for ridiculous scenarios.
We'll leave you with our favorite Big Bang Theory quotes from the episode:
Wolowitz: Indian Monopoly is just like regular Monopoly, but instead of money you use rupees, instead of building hotels you build call centers, and when you pick a chance card there's a chance you die of dysentery. And just FYI, that was racist. | permalink
Bernadette: I was working with penicillin-resistant gonnorhea in the lab today, and I was just trying to remember if I washed my hands. | permalink
Wolowitz: What kind of spaceship has a hole in the middle?
Raj: A Romulan battle bagel? | permalink
Bernadette: So we just sit here and stare at a screen and wait for something to happen?
Wolowitz: I did it with you when we watched The Notebook. | permalink
Sheldon: I'd like to say I'm very happy that you're back together, and if I can figure out a way to do so and sound sincere, I will. | permalink
Eric Hochberger is the programmer of TV Fanatic, so please forgive his mediocre writing. His programming is far better. Follow him on Twitter and/or email him. Just don't request threaded comments. They're coming.