After mostly relegated to the B story as a supporting character for the past four years, Howard Wolowitz finally found himself front and center this week, as "The Engagement Reaction" followed his mother ending up in the hospital.
Howard has certainly become much more likable of a character this season; Bernadette has helped give his character an excuse to grow from a one-note horndog into a slightly more rounded individual.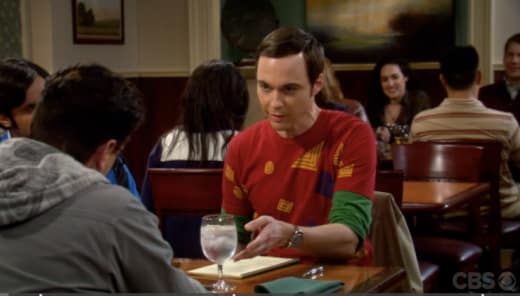 Now he has all sorts of new jokes they can beat like a dead horse. Like that he's Jewish and marrying a Catholic woman. Speaking of dead horses, I was previously getting very sick of the always off-camera voice that's been Mrs. Wolowitz since season one.
The generic, obnoxious yenta voice that is Wolowitz's mother finally grew on me. Why? Because of the "twist" that she was concerned for her new daughter-in-law getting food poisoning, and not having a heart attack because her son was marrying a shixa. How's that for acceptance,
Glee
? But Bernadette doing the voice and it turning Howard on?  All kinds of creepy.
Speaking of characters that are growing on me, where was Amy? I know, I know. I spent how many weeks of reviewing bashing her character. But I realized something during last week's adventures with her bestie: I like Amy now.
Was she needed in the hospital story line? Not at all. Would she have gotten in the way of Priya and Penny bonding? Probably. But that was a risk I was willing to take.
Priya continues to do the opposite of grow on me and even irritate me more with each episode. I don't care if she bonds with Penny, they have set up her character as just too unlikable.
Since TBBT is still the Sheldon show, even when Wolowitz is given the A story, everyone's favorite preying mantis had to do his thing here. This week's episode focused on one of my least favorite quirks of his: germaphobia.
Sheldon always manages to walk that very thin line between unaware of social norms and being a jerk. Unfortunately, I just felt his obsession over getting out of the hospital while his friend's mother's life was in danger leaned too heavily on the jerk side.
That's okay, because the payoff of Sheldon wandering into a quarantined patient's room was almost worth it. I hate to say it, but it's the Sheldon show for a reason. It got the most laughs of any of The Big Bang Theory quotes for me.
Eric Hochberger is the programmer of TV Fanatic, so please forgive his mediocre writing. His programming is far better. Follow him on Twitter and/or email him. Just don't request threaded comments. They're coming.