A return to basics. A focus on the core characters. The elimination of stunt casting and theme episodes and PSA-like messages of the week.
Ryan Murphy and company promised all of these improvements and more in the weeks leading up to the Glee season premiere, "The Purple Piano Project," and it's very safe to say: the show delivered. Big time.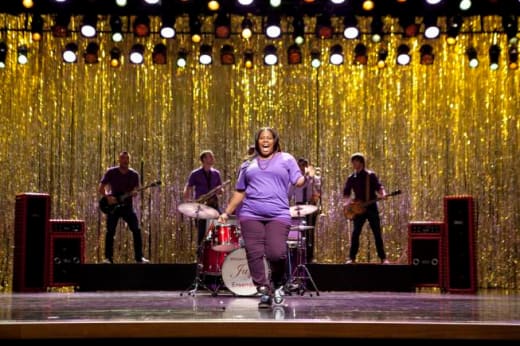 There was no agenda, be it related to sex or drugs or homosexuality. Instead, there was simply time spent with New Directions and the realistic problems many of them would face in real life. Best case in point: Rachel and Kurt.
Come on, TV Fanatics, admit it: who out there has not been in a similar situation to the one these two experienced when they walked in on that incredible group of talented teens? You reside within a bubble of your small town or high school, you excel at something among your peers and you have no idea that a gigantic world exists beyond those hallways.
Heck, I was a 6'0" Jewish kid who thought, in eighth grade, that my basketball jersey might one day be retired at Duke University. It's funny to think about now, and embarrassing to write, but it was legitimately dream-crushing at the time to realize just how my skills compared to many others out there. But at least Rachel and Kurt, following a good cry, aren't giving up.
I'll take a pep talk-giving, Senior Class President-running, happily and steadily-dating-Blaine Kurt Hummel any time over the whining victim this character morphed into last season. Well done, Glee.
Quinn, of course, has gone in the opposite direction. She isn't embracing her inner Gleek, she's rejecting it. Again, though, this happens all the time. High school students can't be expected to truly know who they are and many of them, girls especially, run with different crowds over the years. Does this seem sudden and drastic, considering the Quinn Fabray who only cared about winning prom queen just a few months earlier? Yes.
But Glee had to make some serious changes and is essentially admitting as much. I'm fine with that. Bring on the practically clean slate, I say.
Except when it comes to Will and Emma. It was startling to see these two as a full-fledged couple already, sleeping in the same bed and acting like everything Wemma fans always imagined they could be. I'm glad they're there, and really glad for Will's sake that Emma now knows what it feels like to be aroused, but it would have been nice to have watched their progress, instead of being thrown right into bed with them (especially when a certain body part of Will's wakes up early. TMI alert!).
Will's private region isn't the area I'm interested in, though. Let's focus instead on his spine. Who knew the guy had one?!? Firing Santana, disallowing Sugar from becoming a member, glitter-bombing Sue. Like the changes the show made to Kurt, all I can say is: bravo. I'll stop pining now for Holly Holiday to coach New Directions.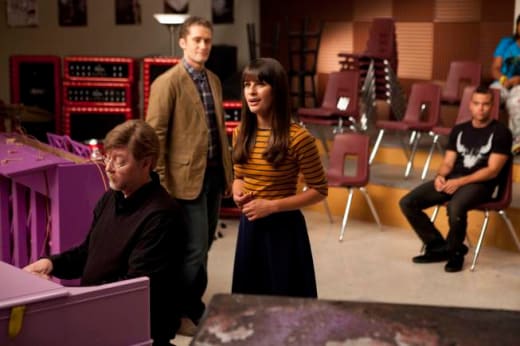 Fortunately, some characters remain the same. Brittany still thinks her nipples are piece of pepperoni, Santana is still a proud, straightforward diva, Sue is still... Sue. It had grown tiresome to watch her tear into Will and the club all the time, and her run for Congress even possesses it own hint of realism. No, not that a rapist could try to snag the position from prison.
But that many people out there really do look down on the arts and with the economy tanking across the nation, it's entirely conceivable that a platform to eliminate this program in public schools really could gain traction. I mean, Sue Sylvester on a state-wide stage? If she demands a dress code made of nothing but track suits, she might even get my vote.
Closing thoughts:
Shalom, blogosphere. As soon as I heard these opening words, I had a feeling we were in for a fun hour.
An early reference to the Comments section on blogs? Nice little nod to Internet critics of season two.
Kurt and Blaine watch The Bachelorette together. Anyone surprised?
What about toast? Bread's already been baked. I don't get why you need to cook it again. What would the odds have been on Becky uttering the funniest line of the night?
A perfect number of performances for an episode, each fitting snugly into ongoing storylines and each just so darn catchy. With the New Directions once again underdogs, no, we can't stop their beat. Why would we want to?
Finally, because it's been awhile, remember: we update our Glee quotes and Glee music section instantly, as soon as episodes conclude, every single week. Visit them now to be reminded of an outstanding season premiere and sound off: WHAT DID YOU THINK?
Matt Richenthal is the Editor in Chief of TV Fanatic. Follow him on Twitter and on Google+.