The Big Bang Theory Review: Trembling with Confidence

Carla Day at .
Who is Sheldon? Last week, he was demanding and incredibly unlikable. This week,  well ... he was pretty much the same. Unlike with Leonard, Amy was able to put Sheldon in his place and that was quite a blast to watch.

I've enjoyed Amy in small doses, but when she has had a major storyline it has been too much for me ... until now. Sheldon has a habit of being the center of attention and requiring his friends to adjust to his every whim. But, not with Amy in the biology lab. She put her foot down and he gave in. You have to love Amy for that!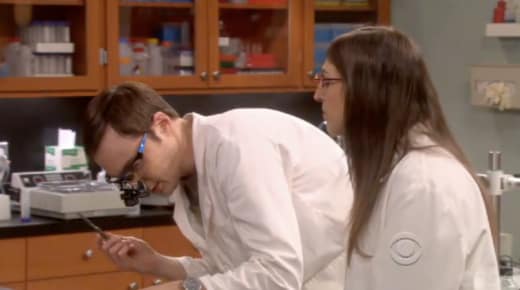 Well, of course, he complained along the way, but he did everything she asked. Even better than that was Sheldon's realization that he is not perfect and all-knowing. He has always knocked Amy's field of biology, but when he was given the opportunity to cut into the brain -- he shook and shook and cut his own thumb! Then ... passed out! HA!

When he passed out the first time, it was a bit shocking, but when he passed out the second time at the Cheesecake Factory -- I laughed so hard! Oh, Sheldon. The only thing better was Sheldon going back to Amy's lab and groveling for her to forgive him. I'm not sure that we've ever seen those puppy dog eyes before. He looked like he was sorry even if he couldn't verbally express it, until he finally just said, "Sorry."

Sheldon wasn't the only one with girlfriend issues, Howard was faced with the decision of whether to sign a pre-nup. Only he found out about it through the "nerd-vine," rather from Bernadette herself. In a way, it was probably better that she wasn't the one to tell him. It gave him time to process it before having a conversation with her. He isn't the best communicator when blindsided.

Overall, the stories and the jokes worked for me tonight. I actually laughed out loud (yes, I'll admit it.) more in this episode, than I have in a while.
Other "The Vacation Solution" highlights:
Physics Mad-Libs -- Sheldon's laugh cracked me up. He definitely has his own sense of humor.
Leonard singing along with the Black Eyed Peas. He needs to have alone time in the car more often.
Sheldon's Scooby Doo reference on how to sneak into the office by pretending to be lobster traps. Odd, indeed.
If a dictatorship means forced vacation, especially, paid and all the time ... I'm in!
Leonard and Penny's walk down to the laundry room talking about pre-nups -- what a thought! Can you even imagine Penny a famous movie star and Leonard the stay-at-home dad? Possible spin-off when show ends?
Based on Bernadette's description of her father, we must meet him soon! Oh, can you imagine the meeting between him and Howard's mother? We must see this!
Take a minute to check out the The Big Bang Theory quotes from tonight's episode, then share your favorite moments in the comments.
Carla Day is a staff writer for TV Fanatic. Follow her on Twitter and on Google+.