Justified Review: I Love It When A Plan Almost Comes Together

Dan Forcella at .
It may have seemed like Ellstin Limehouse was too busy cutting up pigs to know what was going on in Kentucky recently, and it definitely seemed like his right hand man Errol had decided to rise up against the boss last week, but "Coalition" proved that it was all part of the good butcher's master plan.
Given how many temporary alliances came together and fell apart over the course of the hour, this episode of Justified should have been titled the plural, "Coalitions."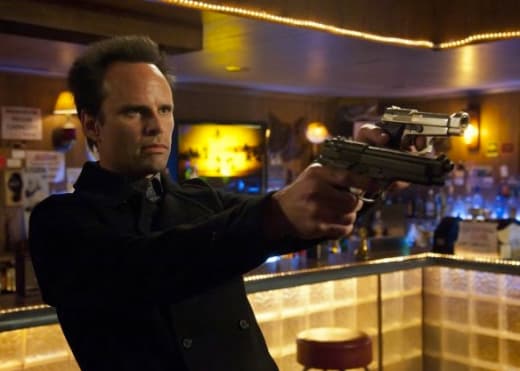 Dickie and Errol were seemingly teamed up, who then joined with Boyd to rob the bank. Boyd, meanwhile, was also aligned with Wynn Duffy to take out Quarles. Duffy was already siding with Quarles and Theo Tonin, and Quarles also made a deal with Limehouse.
Everyone was scrapping to get their share of Mags's and/or Tonin's money, and nearly everyone failed. The most intriguing coalition of them all, though, had to be Raylan Givens and Ellstin Limehouse teaming up to get rid of Dickie and keep Mags' money in a safe place.
Did anyone predict that Loretta not only had the money, but would end up keeping the $3.2 million all to herself? I'm not sure exactly why Limehouse wanted the money to stay with Loretta, maybe it is because he wants everyone to just leave him and his people alone, but it was a great plan nonetheless.
He wanted the Marshals out of his hair, which Raylan said would never happen if he continued to hide the money. The fact that Loretta - who Raylan looks at like a daughter in some ways - has the money means that the Marshals will stop snooping around for the most part.
Limehouse's other side of the plan almost worked out as well. Sending Errol undercover to work with both Dickie and Boyd was genius. It was risky for the number two, but it was smart. He knew that if he got everyone together that they would take each other out, or at least all go to prison.
What he didn't count on, though, was Trooper Tom showing up to the party and screwing it all up. If he hadn't shown up, you have to figure one of Boyd or Quarles would now be dead. Instead, Quarles proved that he still has a quick trigger in gunning down Tom, and escaped before anyone could catch him.
The most interesting thing about the end of "Coalition" was how everyone wanted everyone else dead, but nobody wanted to actually do the deed. Limehouse sent Quarles to go kill Boyd, Wynn wanted to kill Quarles but instead waited for Boyd and Quarles to fight it out.
Quarles might have completely lost it, but at least he went to Boyd's bar attempting to do something about his situation. And when I say lost it, I mean this guy is a completely different individual then the man we met at the beginning of the season. He is pulling together mini-cons here and there, getting high as a kite every five seconds, and has absolutely no idea what to do next.
It was a long cry from the cool, confident killer we saw in the season premiere. His quick cons are still extremely fun to watch, though. Getting stoned with the prostitutes, allowing them to drop their guard, then chaining them all together in the motor home was just masterful.
Quarles isn't the only one losing it, as the behavior Arlo Givens continues to fall deeper and deeper into Crazy Town. First he called Boyd "Raylan" and then he starts having full on hallucinations and conversations with the deceased Helen.
I would guess that this is going to play a role later on, or else why bring it up. A minor player going nuts doesn't have much point unless it's going to wind up intertwining with the plots of our main characters.
What and who else will play a major role in next week's season finale? Now that Mags' money is out of the picture, I have to imagine this will all come down to a bunch of battles to the death in the aptly titled "Slaughterhouse."
What did you think of the penultimate Justified of the season? Were you surprised at how the money story played out? How does Robert Quarles keeping escaping death? And who in this world doesn't know Boyd's plan to rob a bank?
Also, let us know who you think is most likely to die in next Tuesday's finale:
Dan Forcella is a TV Fanatic Staff Writer. Follow him on Twitter.