Pretty Little Liars Review: If the Feather Fits

Teresa Lopez at .
After a pretty strong return, Pretty Little Liars delivers a less exciting installment this week.
Don't get me wrong, "Birds of A Feather" was a good episode. It just moved rather slowly, and there wasn't a whole lot of suspense to the story. BUT there were some dramatic developments, which made this yet another enjoyable night of television.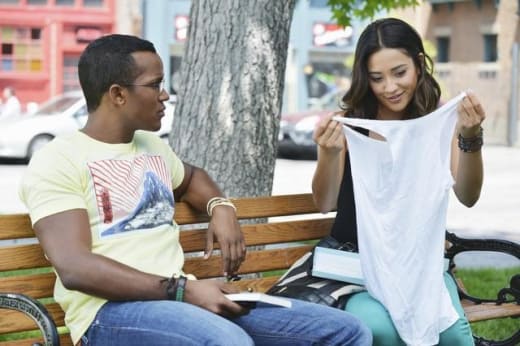 First things first: Melissa was the black swan! 
Spencer finally realized that Melissa was a perfect candidate for the brunette black swan and helped the girls "break" into her apartment to look for clues. The matching feather led Spencer to finally confront Melissa, and strangely enough, Melissa actually opened up.
Our Round Table discussion came really close to guessing the truth about her pregnancy. Melissa told Spencer and her mother that she lost the baby right after Ian died and that someone blackmailed her into wearing the costume that night.
If we believe everything Melissa said, then the black swan angle won't really lead to us to the new A. Kind of disappointing, huh? Those feathers, like every clue on the show, only serve to arouse our suspicions and incite our curiosity - but all of the clues never really give us the answers we want.
Aside from that slightly disappointing revelation, the episode seemed to be really focused on mourning lost relationships. Emily met up with Maya's cousin Nate and received a pleasant but tragic gift from Maya. The t-shirt served to remind her of everything she loved and missed about her late ex. I hope Emily and Nate continue their budding friendship because they seem to helping each other grieve the loss of Maya.
Meanwhile, the fact that Hanna has been keeping secrets from Caleb finally pushed him over the edge. Caleb couldn't be patient with Hanna anymore and demanded she stop shutting him out of her life. Unfortunately, this ultimatum came just after Hanna received a threatening text from A. Apparently A is everywhere, including Montecito. Once again, Hanna feels driven to protect Caleb, which means keeping silent again. How frustrating for Caleb and for us! I've always like Hanna and Caleb as couple because they're usually so honest with each other. Let's hope Wren doesn't interfere in this relationship like he did with Spencer and Toby.
Ashley and Ella also bonded over the loss of their marriages in one of my favorite scenes of the night. This new ex-wives club shared a glass of wine and commiserated on the difficulty of living alone after being married for so long. It was a sweet and funny moment between my two favorite moms.
Jason's return also caused some serious anxiety for the girls. His $50,000 reward for information about Allison's remains may have attracted A's attention.
Some burning questions to mull over these next two weeks (!) until the new episode:
Does A have inexhaustible resources? Is that how he/she/they were able to get to Montecito and cause that car crash with Caleb's mom?
How many people are in the "A-team" and how far is A's reach?
Will A be receiving a $50,000 bonus soon? 
Was Melissa telling the whole truth? My gut says no, but it was great to see Spencer finally get some answers out of Melissa.
Is it just me or are Hanna and Aria quite the hilarious duo? Most of the best Pretty Little Liars quotes this week came from these two. Not really related to the A mystery, but it's worth considering. Which of the liars is the most quotable?