Covert Affairs Review: Send Auggie On Over

Dan Forcella at .
We all want it. We all got it. Annie and Auggie were sent to Spain on assignment together in "Sound and Vision." But did it live up to our expectations?
There was a moment here or there on the actual mission, but honestly, the best interaction between the two may have occurred before they even started it. Watching them play 20 questions, sitting outside Arthur's office like a couple of high school students in trouble with the principal, might have been my favorite part of the hour.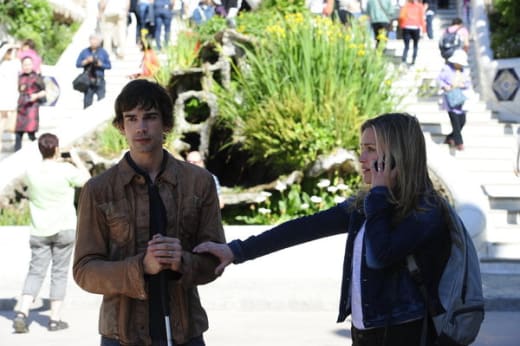 It's just the chemistry between the two characters, and how well Piper Perabo and Chris Gorham seem to gel as actors, that is so fun to watch. Take, for example, the banter just before the flight when Annie jabs that Auggie doesn't need a window, and the analyst hits back with the fact this "isn't the first time [Annie's] been under qualified."
That's not to say that the actual mission wasn't entertaining as well. The two of them teaming up for that hand to hand was pretty awesome! I know it's Auggie and Annie, and they're studs, but that guy got absolutely destroyed by a woman and a blind guy. He shouldn't tell anyone about that.
The trip to Spain wasn't without its drama either, as Auggie spilled the beans to Annie that he is planning on asking Parker to marry him. That's pretty quick, fine sir, and like Annie said, hasn't most of this short-lived relationship been long distance? This is an interesting move for Auggie!
What was more interesting was the look on Annie's face when she heard. Was she just shocked? Or was she truly sad? Maybe like some of Covert's shipper fans, Annie always thought that after all the craziness ended, she and Auggie would end up together.
Fortunately for Augs, Annie is a trooper, and will prove to have her best bud's back in any situation... even a proposal to another woman.
The job itself, finding this Red Rover in Spain, wasn't all that interesting - especially on the heels of the story from the season premiere. With all of the recent talk of serialization for season three, I was expecting much more of a continuation of the Simon story. However, it was definitely exciting to see Annie knocking on his door to end the hour, so I'm okay with the decision.
Meanwhile, things got interesting at the home front as well, as Joan, Lena and even Arthur began butting heads the mission. It was Joan who sent Auggie and Annie on this mission, which means she had to steal Annie back from Lena, and take Auggie off of his detail for the OSP. Neither Lena nor Arthur was happy about this, and Joan's difficulty dealing with the loss of her two favorite operatives came to the forefront quicker than even I expected.
With those dynamics heating up in Washington, Annie ending the hour back in Simon's hotel room, and Auggie on the verge of asking Parker to marry him, things are as exciting as ever on Covert Affairs.
What has you most excited? What did you think of "Sound and Vision?" And what was your favorite Auggie/Annie moment of the hour? Let us know in the comments!
Dan Forcella is a TV Fanatic Staff Writer. Follow him on Twitter.