Covert Affairs Season Premiere Review: Marrakesh Impressed

Dan Forcella at .
Covert Affairs returned with a bang to start season three, but it was where things went after the shocking opening that made "Hang On to Yourself" a great beginning to this Covert summer.
Yes, Jai Wilcox was blown up by a car bomb in the early moments of the episode, and I was very surprised by it due to the fact that I hadn't heard anything about Sendhil Ramamurthy leaving the series.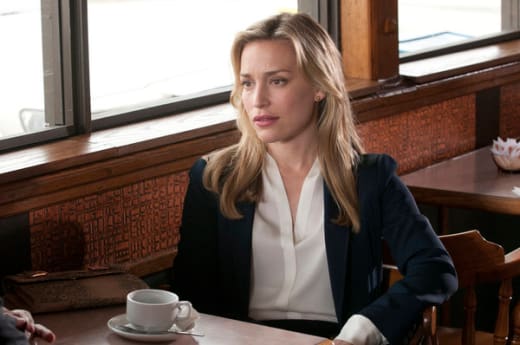 Other than scaring the crap out of me - and freaking out Annie enough to make her afraid to start her own car even after checking thoroughly for bombs - Jai's death led to a number of new developments for the rest of the Covert crew. We can only hope that said developments keep the stories going in new and interesting places, and that the series doesn't simply bring everything back to the status quo within a few episodes.
That happens far too often on shows like this. New and different avenues will present themselves, the series will explore them for a bit, but then everything will go back to normal after a short while. It's as if the writers are too afraid of changing what is working for them, but thankfully Christopher Gorham has assured us this won't be the case in Season 3.
I can only think of a couple of minor situations when Covert Affairs has fallen pray to this fate, but when Auggie was given a new job last season it seemed like that could have created a number of new and interesting stories. A few episodes later, though, he returned to his desk and everything was back to normal.
Now, during and after this Season 3 premiere, a couple of things have changed the dynamic of the series: Auggie is investigating what happened with Jai by running his Special Projects department, Annie is working for Lena Smith in a new area of the CIA and Joan will most likely have issues in the DPD working without two of her best.
If Covert can build on these stories, instead of finding ways to work back to the way things were, the series may be able to grow into an even better show than it already is.
The progress I enjoyed most in the premiere itself, and the one I will be looking forward to most throughout the summer, is Annie working for a new department.
It is not only because I get all tingly seeing Sarah Clarke working for a government agency again, wondering every second she's on screen if Lena will end up dirty like Nina in 24, but it has also already created interesting relationships and questions to be asked.
Who is this Lena Smith? What is she about? And why do so many have interesting things to say about her department? Annie seemed to work well with Lena's you-are-my-equal managing style on this trip to Morocco, but will that continue?
The fact that Annie isn't - and wouldn't be - working with Auggie regularly intrigues me, especially after their phone conversation in which she lied to him about running away from the Germans. Will working in different departments compromise their relationship? Or will they be able to get over that?
All of that is not to say that Auggie looking into Jai's cases, and Joan working with a depleted DPD, don't also seem like a great start to new episodes of Covert Affairs.
The fact that "Hang on to Yourself" ended with Annie still on her mission with Simon, and Auggie opening up a box with an identical symbol to the tattoo on Simon's neck, only gets me more excited about the possible increase of serialization that Gorham referenced.
The return outing was also filled with plenty of foot and car chases, Annie once again using her feminine charms (this time with the new ability to add sex to the mix), the fact that Jai originally came to Annie to tell her something important - and a vicious sand storm!
I thought it was a great start to season three, and hopefully a precursor of good things to come. But what did you all think? Let us know your favorite moments of "Hang on to Yourself" in the comments, and don't forget to follow @CovertTVF on Twitter for news, reviews and live tweets during the show!
Dan Forcella is a TV Fanatic Staff Writer. Follow him on Twitter.