Covert Affairs Review: California, Here She Comes

Dan Forcella at .
Who had episode four in the TV Fanatic pool for when Annie would be back working for the DPD? I sure didn't, but after getting the boot from Lena for apparently botching the Simon mission, that's exactly where Annie ends up in "Speed of Life."
This isn't setting the reset button, though. When I was worried that Covert Affairs might send all the stories back to the status quo too soon after the season premiere, I wasn't imagining this. This we can work with.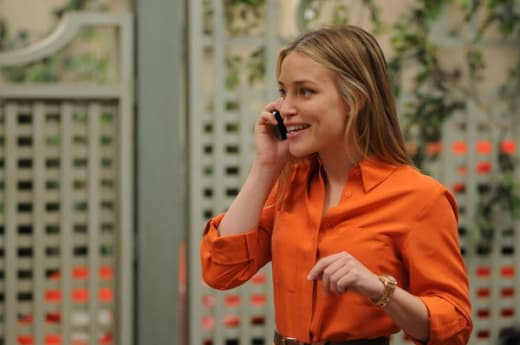 Annie was sent back to work at the DPD, but since Simon came back for her by the end of the hour, and she accepted his profession of "like," the situation is still very fluid. She might just go rogue at this point. Lena might HAVE to bring her back into the fold if she's spending just as much time with Simon as she was before.
Either way, this isn't the usual "blow the new stories up to get things back to normal so that fans don't get mad" issue. This was just one wrinkle in this season's longer running plot  Lena wasn't happy with Annie's performance so she had to drop her. Whether that sticks or not depends heavily on what happens after Annie leaves with Simon in that car.
While Annie's time with Simon took up most of the action during "Speed of Life," it was Auggie's story that pulled at the heart strings of us all. Seriously, Parker?!?! You're doing him like that?!?! I guess I could see this coming, but how dare she?!?! This is Auggie we're talking about!
Obviously she couldn't handle the new situation, and maybe she was right in that they weren't a good fit for each other, but that didn't make it any easier to watch happen. He was crushed.
Luckily for us, a depressed and distraught Auggie is just as entertaining as every other version of this character we have seen to date. Between him being snarky at Annie on the phone with "call me when your schedule clears up," and smashing a bottle of beer of Clark's head, Auggie was a joyous depressed drunk.
The hour was full of sad stories, however, because we also had to endure what might have been the last tender moment between Annie and her sister for a long time. Danielle is indeed moving to California. Anne Dudek was never utilized perfectly on Covert Affairs, so maybe it's for the best.
It's going to be difficult to match great moments like Annie and Danielle sharing that tub of ice cream with a spatula from this point forward.
Others will have to step up. I could use a lot more from Arthur and Joan, that's for sure. Maybe the two will be featured in the near future. What do you all think? Without Danielle and Jai, who needs to come into the limelight a bit more?
What did you think of "Speed of Life?" Are you happy with where the stories are going? Did Parker make the correct decision? And what do you think is next for Annie Walker?
Dan Forcella is a TV Fanatic Staff Writer. Follow him on Twitter.