Covert Affairs Review: Is it Love?

Carla Day at .
Oh, Annie what have you gotten yourself into? "Loving the Alien" showed how far Annie has strayed both professionally and personally.
Ever since the end of the season premiere, "Hang On to Yourself," I have been worried about Annie; her decision to join Simon in the shower made me extremely sad. No longer was Annie the innocent CIA agent that we first met.
On the heels of her transfer request from the DPD, Annie decided to go rogue to continue her relationship with Simon. Of course, Lena couldn't officially approve her "vacation" to Cuba, but helped Annie and then lied to Joan about any knowledge of Annie's whereabouts.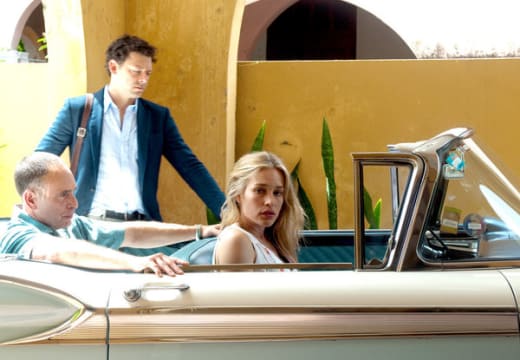 In the past, Annie always let Auggie in on what she was doing, even if not necessarily approved. At this point, she has even cut him off from this part of her professional and personal life. Their scene by the elevator was painful to watch; he knew she was lying and she knew that he didn't buy her story. When he finds out what she's been up to, I'm not sure he will easily accept it.
Professionally, Annie is risking everything. It's a bit surprising that after being abruptly dismissed by Lena, Annie has gone back to her. It shows how emotionally invested Annie has become in the Simon mission and in Simon himself. She knew Joan wouldn't support her, so she went around her boss to get it from Lena.
This will either be a career maker or a career-ender for Annie. Ultimately, I expect that Annie will be betrayed by Lena, and Joan will be the one who backs her up when she needs it. She may be able to remain at the CIA, but at what cost?
Personally, Annie made a decision to walk into that shower and hasn't been able to get out since. She was genuinely thrilled to hear that Simon had never been as happy with any other woman. And there was no faking their passionate lovemaking. Simon may be in love with Annie, but she is just as smitten with him.
Simon killed his handler to protect Annie and there isn't a higher sacrifice than that. He put his life on the line for her. When Annie has to make the choice between Simon and the CIA, which one will she choose? Right now, it's a toss-up, but I'm guessing she will try to find a way to help the CIA while protecting him. That's Annie's way.
Back in America, Auggie was persistent in finding out who killed Jai. Even though Arthur didn't believe Henry knew anything or at least anything he would reveal, Auggie wouldn't give up. Auggie, as usual, was correct and he will hopefully find a cornucopia of information from Jai's safe house. The question is: how soon will the case into Jai's assassination and his private investigation lead to Simon?
Lastly, Arthur's quest to become the next Ambassador to China seems to have come to an end. His reaction to the Senator's comments was not expected at all. Arthur has held his head high through many inquests, but his desire for the position was less important than his pride.
This season, Covert Affairs has upped the intensity and situations are reaching explosive levels. Annie has put her relationships with Joan, Auggie and the CIA at risk. Something will have to give and it won't be pretty when it happens. Eventually, Joan and Lena are going to have the ultimate showdown. And then there is the mystery surrounding Jai's assassination. When they find the culprit more lives will be at risk.
Throughout the entire hour, I was on the edge of my seat with worry about what was going to happen to Annie. Would Simon try to kill her? The suspense was nearly heart attack inducing. As long as Annie continues her relationship with Simon, the danger isn't going anywhere. 
Do you think Annie has fallen in love with Simon? And, will she be able to sacrifice him if it comes to that?
Carla Day is a staff writer for TV Fanatic. Follow her on Twitter and on Google+.