Who doesn't love them some Eyal?  
That's right, Oded Fehr returned to Covert Affairs for a guest appearance in "This is Not America." His charm and obvious chemistry with Piper Perabo made the hour much more entertaining than it would have been without him.
There were a couple of really fun moments between Eyal and Annie, including what I like to call a game of "Good potential employer/Bad potential employer." Not only did that moment make for an interesting dynamic between them and their new target, Isaac, but it also showed the different layers to the relationship.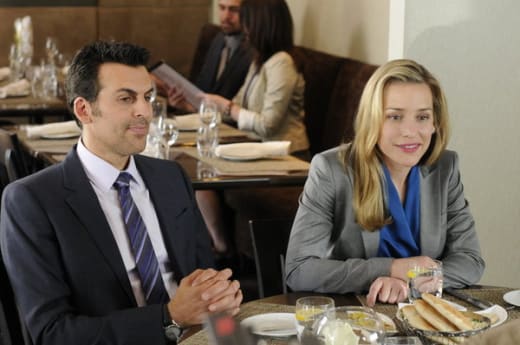 They're acquaintances. Sometimes they are partners. They've had some intimate moments. Early on in this mission it was announced that they are officially "friends." All of that could have made things extremely awkward when Eyal revealed that he was evaluating her for the department, but like the rock that she is, it didn't seem to faze Annie.
She kept on keeping on, as the two of them continued on the mission, and they even had time to watch a bit of Eyal's son's soccer practice. It showed her that he isn't just this free wheeling spy without a care in the world. Eyal has things, and people, holding him back as well. It's moments like that that probably make Annie feel better about being a spy and having such close relationships with folks.
After the mission is completed, following a couple of great chase scenes through the streets of Israel and one dude getting flat out demolished by a van, Eyal shares some documents with Annie. He wasn't supposed to, but he did so anyway.
The folder was filled with pictures of not only Simon, but also Annie WITH Simon. What was her first move after that? Of course to call Simon and ask "Can I see you?"
Thankfully, we were given that bridge to the main arc of this third season at the very end of the hour, because without it "This is Not America" was feeling very much like what we didn't want to see happen after the promising premiere. We were given a new mission, a guest star of the week and both Annie and Auggie were back working in the DPD.
The status quo has kind of returned, unfortunately, but on the bright side, it doesn't feel like things will stay here for very long. With Simon still on Annie's mind, Lena definitely still in the picture, Auggie in therapy and Arthur potentially heading to the Far East, it isn't the same ole same ole on Covert Affairs.
Auggie being in therapy could lend itself to some hilarious situations, and based on the fact that Daniella Alonso of Friday Night Lights and One Tree Hill is his therapist, he probably isn't done with treatment just yet. If we get at least one moment per episode where he does something as great as his grand entrance mentioning that Alonso's character shouldn't mistake his return for growth, we will be in for a treat.
Arthur's situation, on the other hand, could get dicey quickly. He revealed that he was on the short list for becoming the Ambassador to China, and he also found a job in the east for Joan. Wait... what? You started finding jobs for your wife without even telling her about the situation first?
Uh oh, Arthur. This may be the biggest pickle Peter Gallagher has found himself in since he Ryan Atwood punched out yet another local kid at some Newport Beach event.
With Arthur and Auggie facing new challenges, and Annie on her way back to getting mixed up with Simon again, interesting things seem to be ahead on Covert Affairs. What did you think of this hour's events? Was it one of your favorite episodes? Or did it fall a bit flat? And what was your favorite moment from "This is Not America?"
Dan Forcella is a TV Fanatic Staff Writer. Follow him on Twitter.