After last week's exciting romp with Eyal, "Hello Stranger" wasn't as overtly entertaining, but there was still plenty to enjoy out of this midseason hour of Covert Affairs.
First and foremost was Annie's persistence. She set her mind to the fact that Sayid was a certain way, and Annie Walker didn't stop until she proved it. The Yemen Prime Minister's Chief of Staff was steadfast on keeping Annie and the CIA out of his life, but the operative was able to chip away at him.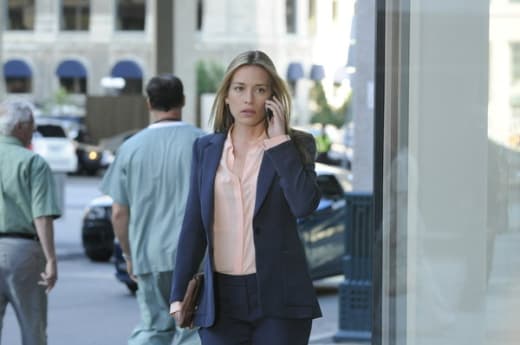 Whether it was continuing to quote the article that she knew he wrote, and him denied having any part of, or finding enough time to make it so they were not actually strangers, Annie put in the work that eventually led to a phone call from the turned-asset to end the episode.
During Annie's mission, Joan told her to get out of town in order to remain safe, and she also came up short on providing safety for a potentially turned Sayid. Combine that with the fact that Annie figured Joan for the one who had Eyal profiling her, and you have one unhappy operative.
I don't know how I feel about Annie putting in for a transfer. On the one hand, I like the possibility of her working with Lena again and she seemed charmingly confident in her decision to leave in Joan's office. On the other, it kind of felt like she was just crying because she didn't like her situation.
Joan, meanwhile, was nothing but kind to Annie upon her return. She wanted to have a heart to heart with girl, telling her to ask any questions she had about what happened. I felt bad for Joan when Annie basically said "Screw you, I'm jumping ship."
It's not like Joan doesn't have other things going on either. It's not fancy dinners and romantic walks on the beach for her and Arthur. The latter seems to be well on his way to the Chinese Ambassador position and it seems to be causing a rift in their marriage.  
Other than a cute "what if" game with Annie while she was making decisions in the field, Auggie was out of the main story this week. His own little adventure with the DPD therapist was nearly as exciting as everything that went on with Annie and Sayid.
Watching her don a blindfold to see what it is like for Auggie to walk the streets was awesome. Not only was it interesting to see him take the initiative in his therapy, but it led to an awfully revealing fact about his life.
At one point he couldn't handle it. Auggie got fed up and walked into traffic, hoping that the cars would finish the job that explosion failed to. That is some serious truth and honesty he shelled out to the shrink. Luckily for him - and for all of us fans - the cars were able to get out of his way in that moment.
Auggie has obviously grown since then, but I'm sure there are many more issues the man needs to work out. I, for one, can't wait to see him attempt to do that over the next couple of episodes.
What did you all think of "Hello Stranger?" Was it a let down after "This is Not America," or was it your favorite yet? What do you think about Annie putting in for a transfer? How about Auggie's field trip?

Dan Forcella is a TV Fanatic Staff Writer. Follow him on Twitter.