"6:50 to SLC" pits father against son, features Peter and Jared take down a plane - and even throws in a little wife-on-wife action.
In case you hadn't guessed, it was the season finale of Franklin & Bash.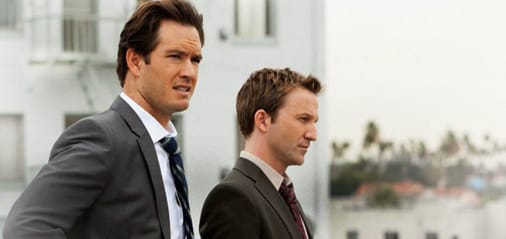 Leonard Franklin is a like a bad rash that just won't go away. Whenever he pops up, you can be assured he will cause his son some sort of grief. Leonard wanted to take over the firm and close the L.A. office. It made me wonder if Damien was right in what he told Jared in this Franklin & Bash quote:
Damien: You're bait for a scumbag like Leonard Franklin.
Jared: Hey that's my crappy dad you're trashing. | permalink
Was this a good business move? Or about gaining control over his kid?
The surprising outcome of the story wasn't that the boys found out that Hanna had kept a file on them, although I was happy that she jumped in so quickly to take the blame. At least she was honest once it all came out. And even Damien had me laughing once again when he told the boys...
 To be clear I was only stabbing you in the back because there was no more room in the front. | permalink
He's never hidden his dislike for Franklin & Bash tactics so he wasn't about to hide it now. Despite that, I still like Damien.
But the big reveal was that Stanton had ulterior motives for hiring Peter and Jared in the first place. It had to hurt to know that their mentor had actually brought them on board because their notorious reputation might keep any future takeovers at bay.
Even given that revelation, I never believed that Peter and Jared had turned to the dark side and would vote with Leonard but I couldn't figure out what their plan was on that plane until they took it down. No, they didn't crash it but they threw such a party that it was forced to land and kick them off. 
I hope scaring Leonard off was worth being put on the no-fly list. Perhaps Stanton can let them borrow a corporate jet from time to time.
On the flip side, Peter was disbarred due to some sort of clerical error which forced him to testify against his friend. I'm always astounded that when a woman cheats with another man it's met with scorn... but if she cheats with another woman guys are practically high-fiving one another. I guess thinking about your cheating spouse as though it's some sort of porn fantasy makes it easier to take.
And after a season long drought, Jared finally has a real love interest. Shiri Appleby managed to make Emily both smart and adorable. It's great to finally see Jared happy but it looked like Pindar was displeased. Well, replacing his Deadliest Catch recordings with a season pass for Say Yes to the Dress had to hurt.

So we head to the end of the summer wondering about the continuing fate of Franklin & Bash. Will it be renewed for a third season? I certainly hope so. These boys never fail to make me smile. What about you?
C. Orlando is a TV Fanatic Staff Writer. Follow her on Twitter.