In the final episode before Covert Affairs takes a short hiatus, "Let's Dance" felt like it never took time to catch its breath.
With Annie now out of the hospital, she was going a million miles a minute during the entire hour, attempting to seek revenge for what Lena did to her and Simon.  Eventually she got that revenge.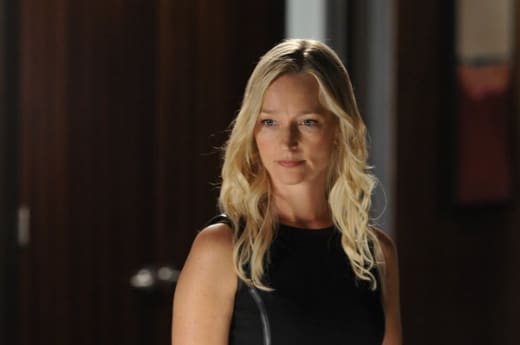 We've seen Annie shoot before. We've seen her kill. That didn't make this one any easier to watch.  She still has such an innocence surrounding her that when she was standing toe-to-toe with Lena, I was still expecting someone else to come in and save her from the traitorous agent.
Alas, our little Annie needed no such help.  When Lena finally made a move for her gun Ms. Walker took her down with no hesitation, firing a pair of shots straight into her chest.  Although there was no other move, like I said, it was surprising to see Annie do it.
Lena's was a great addition for Covert Affairs.  Not only did her presence help build the long-running story that has made season three so interesting, but Sarah Clarke was simply fantastic throughout the run.
In her final scene, when Lena is attempting to get Annie to become a double agent, Clarke showed us once again how perfectly she plays that evil-charm.  She's talking about being a traitor to her country, and how she murdered Jai Wilcox, but all the while I couldn't help but be intrigued.  If I were Annie, I would have had to stop and think about the prospect, that's how charismatic Lena was.
Before getting to those final moments between Annie and Lena, "Let's Dance" showcased the former running around Moscow with Dmitri, a piano playing agent from Lena's past.  I liked the twist that he fell right back into Lena's trap since she returned to Russia, but other than that the character didn't bring much to the table.
Once Dmitri and his friend lie to Annie about where Lena will be, Annie's ambush on some random FSB agent put the Russians on her tail, and forces her to leave town.  But they never counted on the old "switcheroo."  I mean we all saw this coming right?  Why else would they not have shown Annie's face as she tried to leave Moscow?  Even though it didn't fool us, it fooled the Russians and made that final scene possible, so I'm okay with it.
Both before Annie left, and near the end of her trip, Auggie made it clear that his feelings for her were stronger than ever.  Whether it was telling her that he's there for her no matter what, or telling her to come home so that he can tell her important things, Aunnie shippers had a lot to be excited about in this episode.
What's not exciting is that Covert Affairs will be off the air until October 16.  What will we do until then?!?!  What was your favorite part of this quasi-midseason finale?  Are you glad to have Lena out of the picture?  And what do you think is next for Annie Walker?
Dan Forcella is a TV Fanatic Staff Writer. Follow him on Twitter.