Covert Affairs Review: Unlucky in Lavender

Dan Forcella at .
How do you come back after a thrilling episode such as "Glass Spider?" Covert Affairs knew exactly what to do.  
In "Suffragette City," the USA Network hit put the ball in Chris Gorham's court and simply let him do his thing. The results were fantastic.
We've seen Auggie get emotional before, but this might have been a whole new level. From the first moment he heard that his country thought that she was a traitor, he was as upset as we've ever seen. Auggie probably wouldn't have been more bothered if it were him in trouble with the department.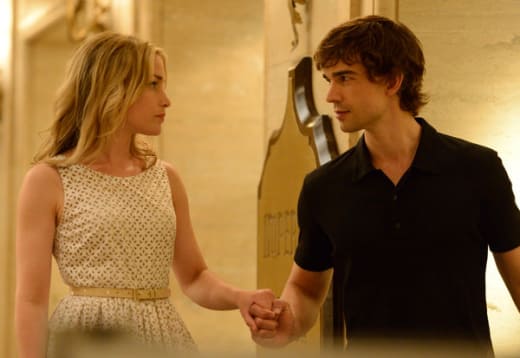 And that's why we love Auggie - and the Auggie and Annie relationship. He wanted to do anything he could to help her, and that included listening to and then breaking into Lena's polygraph session. When she claimed she thought Annie might have had something to do with Jai's death, it was the last straw for Auggie, but I still can't believe he jeopardized himself like that.
But that is how much he cares for his friend. He lost control a little bit, but thankfully he was still thinking rationally enough to figure out Lena was behind everything. If she didn't have to pile on the perfume, or if she didn't lay on the "I'm here to help" bit so thick, maybe Auggie wouldn't have picked up on it.
Unfortunately for Lena, he did, and she's done for! Sure, she is covering most of her tracks now, and it probably take Auggie a while to figure out enough to be able to prove his theory, but it is only a matter of time before it all comes crumbling down for Lena.
We may have expected a Nina Myers-esque story from the very beginning, and Lena double-crossing Annie by shooting her and Simon at the end of last episode reminded us of Sarah Clarke's time on 24, but "Suffragette City" was the first time that it all felt eerily similar.
For all of the jokes I have made in the past, Clarke's character never really felt like Nina Myers until this entire hour. Quietly attempting to keep her cover, lurking in the shadows, being an absolute a-hole to the characters we love, it all felt a whole lot like that first season of 24 to those of us who watched it way back when. Like the outcome from that story line, I don't see Lena finishing this arc anything but in prison or dead.
Finally, we have to talk about the comatose elephant in the room. After taking shots to the chest at the end of last week's episode, Annie spent the majority of this hour asleep in a hospital bed trying to survive. Fortunately for us, we still got to see Piper Perabo's beautiful face thanks to some out of body experiences.
I'm usually not the biggest fan of episodes like this, but it worked for Covert Affairs because it remained marginalized. The show didn't make the entire hour about Annie's dreams. "Suffragette City" was anchored by Lena's betrayal and Auggie's emotion. Annie's adventures only added to the episode, which not only made those moments acceptable, they were also pretty enjoyable.
Whether it was Simon telling her to kill Blackbird at the diner Jai died outside of, Danielle and Joan questioning her reasons for joining the CIA on a polygraph machine, or Auggie and Annie sharing a hot and steamy kiss on the dance floor, I was hanging onto every moment even though they weren't really happening.
The kiss had some real weight behind it because just before that Auggie was telling a bed-ridden Annie that he was sorry for being closed off and distant since Barcelona. It was an extremely tender moment, and I hope to see more of that once Annie is up and about.
By the end of the hour Annie finally did wake up. She may have inadvertently been helped by Lena's attempt to murder her in the hospital, but that's beside the point. Annie's up and Lena's on the run after she got away from Joan and Auggie in the final minutes of "Suffragette City." Will they all go after her? Or will they just be happy to be safe and sound?
It should make for an interesting rest of the season. What do you all think? What was your favorite moment of this week's episode? How great was Auggie Anderson? And will they ever get redemption for what Lena did to them?
Dan Forcella is a TV Fanatic Staff Writer. Follow him on Twitter.