As "God's Eye" so deftly points out, Alphas sure knows how to churn out jaw-dropping season finales.
Of course, this comes with good and bad. The good being (potentially) awesome stories for next season; the bad? Very much on the bubble in terms of renewal or cancellation, it could very easily join a graveyard littered with sci-fi shows that never had a shot at closure.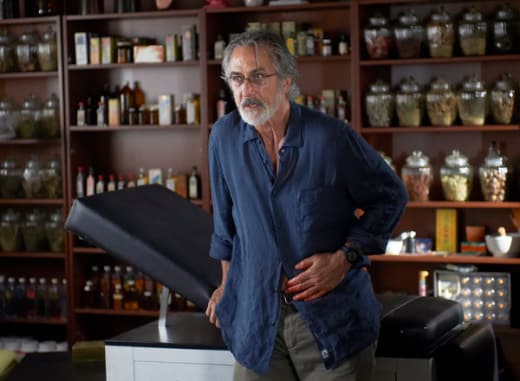 Aside from the incredibly flashy ending, most of tonight was centered far more quietly around our characters, as they continued to wade their way through the moral grey areas that have clouded the team for the duration of the season. Some have clearly hit rock bottom.
Rosen's journey felt rather cut and dry as he chatted up with a (maybe?) hallucinogenic vision of Dani, and his goal was simple: that he was going to bring an end to Parish no matter what. Yet, when Rosen came face to face with that ultimate decision, he couldn't do it. While not surprising, it's still nice to know that Rosen is perfectly capable of going to those dark places, yet he would much rather stay on the right side of his humanity.
Or it could just be that Rosen didn't want Parish to die a martyr. The plot twist seemed to come out of thin air as Parish is always shown as the man with a plan, and staying out of his vision of a new world seems rather counterintuitive.
Go just a little farther, however, and his admission to Rosen make far more sense. For the entire length of the series, Rosen is the central, Professor Xavier-esque leader of Alphas. His rise to the top culminated last season when he told the world Alphas existed, and in a brave new Alpha-dominated world the only way for a true peace would be the man with the unique ability of bringing Alphas together peacefully.
But the jaw-dropping scene tonight came as Parish's grand extermination fizzled to just Grand Central Station after the Alphas were able to shut down everything else. I'm really still trying to process all of it. The final moments of the episode were simultaneously captivating and haunting, as every single person except Gary was on the floor, either dead or unconscious from the flash weapon – not even our own Alphas were potentially spared.
This definitely leaves me wanting more. I have so many questions. Is Gary already at Max power since he wasn't affected? Or is he unique in some different way? If they're not dead, aren't the Alphas for all intents and purposes now upgraded with better abilities? If there is a death, who gets to be the unlucky character? It could easily be Skylar, but it could easily be someone on the team. The loss of Dani has shaken up the team, and the stakes of the show, and it would seem hard to believe that all of the Alphas would make it out alive.
Other thoughts:
Small moments continue to reign supreme as Nina expressed her feelings for Cameron with a kiss; some girl talk happened at the office even as the fate of the world loomed; and Rosen seemed to find some closure with his vision of Dani.
There is something I just can't shake about this episode. Rosen's vision of Dani is just feels out of place for a character like Rosen. I wonder if Rosen's near death experience brought him closer to unlocking a potentially latent Alpha ability. Especially since he essentially downloaded most of Parish's past memories.
Gary's mother still makes very little sense from a plot development point of view.
What did you think of Alphas' season finale?