As you would assume from the title, "Wishful Beginnings" put Annie's time with Simon, Lena and Russia in the past, as Covert Affairs moved forward in a couple of new directions.
The arc that feels the most familiar is Annie working with Eyal. We just went through the entire first half of the season attempting to figure out the complexities of Annie's relationship with Simon. How much of it was strictly professional? How personal were things getting? Who was in it for what reasons? Those questions finally got answered, but it seems now we are asking ourselves the same about her work with Eyal.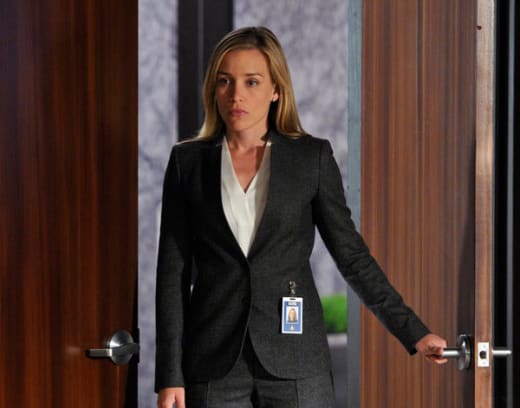 In no way can they repeat the same outcome in back-to-back stories. Because both Annie and Simon let their personal relationship take the lead over their professional one, I can't see that being the case with her and Eyal. That then leads us to wondering who is making this all about business.
Because we last saw Eyal lying to his boss about where Annie was living, and we know she doesn't want him getting too attached to the American, I can imagine that he is indeed letting his personal feelings for Annie get in the way of what his employer wants him to accomplish.
That means that I have to expect that Annie is going to end up using Eyal for the better of her company and her career. It will hurt me to no end if she somehow screws him over, but if she doesn't, everything will feel too much like the story we just watched unfold with Simon.
It will kill me if Eyal gets hurt in all of this. Oded Fehr plays the character in a way that is just so likable. When he walked into the DPD and that whistle blew for the start of the opening credits, it was extremely difficult not to smile from ear to ear.
The same is true for him meeting Auggie for the first time. Their witty banter, and then that giant bear hug, was great to see out of two of my favorite characters on the show.
Unfortunately, Eyal showing up and inviting Annie to stay at his D.C. apartment left our man Auggie in the dark when he went to see Annie at her house. I guess we will have to wait a bit longer to get a serious convo between A&A.
The other most interesting aspect of "Wishful Beginnings" was that Arthur and Joan finally got some more weight on their arcs. Joan ended the episode by walking with her man-friend into a meeting. Yes, that type of meeting. Next we may hear the words, "My name is Joan. I'm an addict."
What is her addiction, though? Will this cause a rift between her and Arthur? Was Arthur concerned about seeing her friend because they had a romantic past, like they made it seem at first? Or does he know that the guy was an addict like Joan, and he doesn't like seeing her with him?
The turn could bring out a number of interesting dynamics at the DPD, and I'm excited to watch them unfold. For the time being, it was really nice to see Arthur go out of his way to let Annie know how distraught Joan was about Annie being in trouble. He's a good guy.
With the exception of a couple of chase scenes between Annie and the guy trying to get the watch, it wasn't quite as pulse pounding as last week's return, but what did you all think of "Wishful Beginnings?" Did it excite you for the rest of season three? And which new directions are you most interested in?
Dan Forcella is a TV Fanatic Staff Writer. Follow him on Twitter.