Mindy opened this week talking about the role reversal that occurs in a relationship when your boyfriend comes over to cook dinner. Yes, Josh's tilapia may have been a flop, but "Thanksgiving" was anything but. 
Despite thinking Danny and Mindy are The Mindy Project version of Ross and Rachel, I found myself warming to Josh this week. He and Danny are very similar, which further cements my feeling that the two doctors will end up together at some point. Both Josh and Danny are married to their job.
While Danny spending Thanksgiving alone in the office working on "Piano Man," Josh entertaining clients in Atlanta was just as lonely a way to spend the holiday.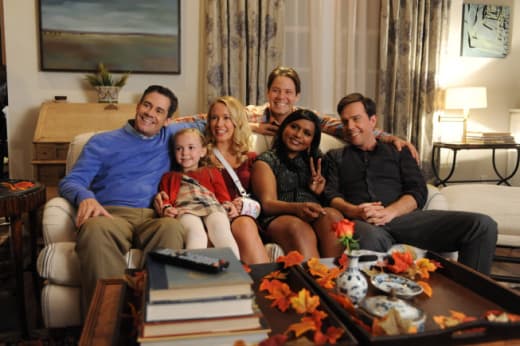 While on the subject of budding relationships, I really am enjoying the time spent with Jeremy and Betsy. Last week, Jeremy sacrificed his beloved watch to keep her respect and this week he traveled home to meet the parents. Their friendship is purely platonic at this point, but they both seem to flourish around one another. As Betsy helped Jeremy get a glimpse of the childhood he never had, we saw some depth of character in the usually shallow doctor.
Jeremy returned the favor by giving Betsy the perspective to enjoy her family's ways and the confidence to get up and belt out her "Gobble Wobble" song. 
After the first few episodes I wondered what purpose Anna Camp's role if any played on the show. Beginning last episode and continuing on tonight Gwen has settled in as a very good counterpart to her best friend Mindy. Perhaps the best indication of their history and friendship was their hilarious fight scene. Mindy's line about Gwen's house being Wayne Manor topped my list of Mindy Project quotes this week.
(NOTE: Camp has now been bumped to recurring status.)
Ed Helms was a nice holiday surprise. His line about socks on hard wood floors being a recipe for disaster could not have been more accurate. I also liked how his new girlfriend was not just a pretty face but a Princeton graduate. Her subtle laughter after Mindy told her she was Class of 2002 was another great example of how Mindy Kaling never misses a chance to poke fun at herself. 
Morgan was master of the living room and had me in stitches when he asked the guests if they wanted to see how many push-ups he could do. 
There were a few details about the episode that did not gel and prevented me from giving it a perfect rating. What on Earth was that green jumper thing Mindy wore to the party? She looked like she was there to sell Thin Mints and Tagalongs. Thankfully, she changed into one of Gwen's dresses.
Who could blame Dennis for kissing her, but what was he doing alone in that weird den listening to mood music and drinking a glass of Scotch in front of the fireplace alone?  
Gwen's cast had signatures all over it. Don't you stop doing that by high school?
The last miss came when Josh called Mindy from Atlanta. There is no chance Mindy would be caught dead with that factory setting ringtone. She of all people would probably even have a custom tone for Josh, some classic R&B or title song from one of her favorite movies. 
The closing scenes where the coworkers all sent around pictures of their celebrations, however, was a great and fitting end to what was overall a great episode. 
Which character would you most like to bring home for the holidays?