It was back to school night on the latest episode of The Mindy Project, as "Teen Patient" featured Mindy going from gynecologist to guidance counselor. 
Mindy's concern for her patient's well being was admirable, but I'm pretty sure she crossed a few lines as it pertained to her doctor/patient relationship. Aside from this gray area, tonight's episode was very entertaining.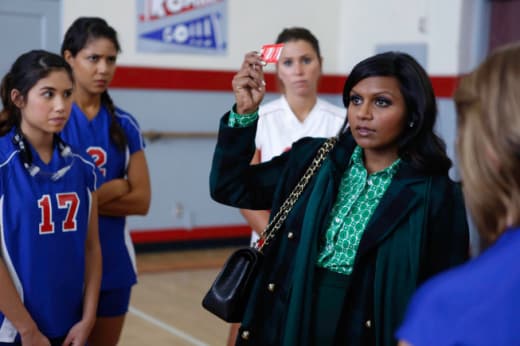 Mindy's appeal to her teenage neighbor was evident, but that didn't keep her from falling head first into the generation gap when she visited Sophia's high school. Her outfit met Ben's standards. Ben, who might as well have just introduced himself as Kurt Hummel, was a treat nonetheless and introduced Mindy to slime. I have no idea if the substance made famous by Dr. Peter Venkman and crew is a real fad or not, but it was funny to see how the older Mindy embraced it most fully. 
Back at the office, Danny faced a very real issue when he received the anonymous complaint about Morgan ogling Shauna. Morgan denied noting and produced some serious laughter with his confession about housing stray dogs and checking out Shauna's body. 
Sadly, we saw noting of Dr. Reed this week, but his partner Danny Castellano more than made up for his absence by delivering the funniest scenes - as well as my favorite addition to The Mindy Project quotes list - when he bailed Mindy out of school jail. 
Gwen's moment was relegated once again to a single scene, but was much more enjoyable this time around having gotten to know a bit about her and Mindy's relationship last Tuesday. 
Outside of Danny, the funniest moments had to be the ones in the student lounge, as Mindy struggled to sit in a beanbag chair while she grilled Henry about his aspirations. 
Mindy and Josh shared a nice moment there at the end. If he keep this up it is going to begin to be harder and herder to picture a scenario where Mindy and Danny end up.