The Mindy Project Review: Season's Cheatings

Chris O'Hara at .
Ho, Ho, Ho. Three words that describe Josh after he betrayed Mindy's trust this week on The Mindy Project.
"Josh and Mindy's Christmas Party" went from a merry affair to a melee.  The episode began to resemble an installment of Bad Girls Club as Ellie Kemper (The Office) played party crasher and got physical with the hostess. 
Poor Mindy, she was so excited to show off her new boyfriend, who as far as we knew had been nothing but the sweet and attentive. He did look like an example photo at a barber shop as Betsy noted, or a model in a Transitions Lenses commercial. You had me going, Josh, shame on me for not seeing it.
Not only did he betray Mindy but also the amazingly animated Heather.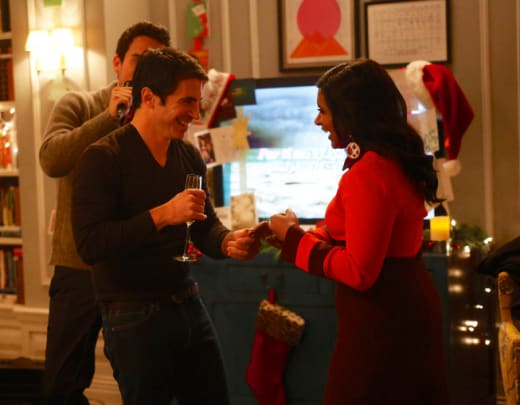 It wouldn't be the holidays without some fisticuffs and Mindy and Heather's rumble left little to be desired. Even Mindy had to give credit where credit was due when her adversary ripped off the microwave door to use as a shield before smashing the gingerbread house with it. Poor Danny. I hope he can forgive my cruel laughter at the scene where Morgan had to restrain him.
Same goes for Mindy who delivered my favorite Mindy Project quote this week while having her heart broken, "I'm Mindy Lahiry M.D. you stupid bitch!" 
Danny once again tip-toed the line between hard guy and heartfelt friend with Mindy this week. Their little squabbles like the one over the playlist full of "Jakob Dylan's dad" are such a great part of the show. The sexual tension and chemistry between them is palpable, but I worry it's building too quickly. Mindy's relationship with Josh is at an end, but I feel like we will meet a love interest for Danny soon to put off the love connection between the two doctors for a while. 
There were certainly more than work people at the party, so I found it odd that Gwen was not present, but then I read that she is being downgraded to recurring status. It was encouraging to see the show's shot callers realized there was room for improvement, but there should by no means be any coal in their stockings come Christmas morning. 
What did you think?