As 2013 premiere of The Mindy Project got underway, Mindy threw away the last few remnants of her disastrous relationship with Josh, but struggled with the thought that life had shown its hand for her and it did not look promising.  
Mindy had to put her quarter-life-crisis on hold, though, when "Mindy's Brother" introduced us to Rishi. Baby Bro was looking for some sibling support, but there was no TLC involved when Mindy told him not to go chasing waterfalls. Mindy was adamant in her belief that it's better to be educated than to be B-Rabbit.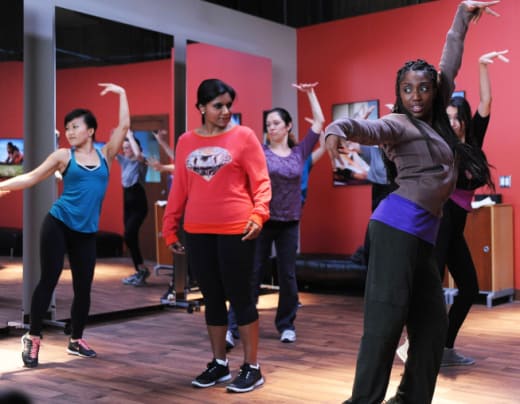 I had trouble swallowing Mindy's bit about losing her Massachusetts accent, but Utkarsh Ambudkar was a total treat in his guest starring role. His break-room rhymes were hilarious and the one for Morgan about phlebotomy made my list of best Mindy Project quotes this week. 
As the rap battle began, I was worried we were going to witness the level of awkwardness that makes me hide my face under a pillow, but what transpired was the polar opposite. I thought the crowd was actually a little rough on poor Morgan. Mindy trying to sing backup while also maintaining her role as the judgmental big sister was great.  
While Mindy played 8 Mile with Rishi, her associates visited the cast from Cocoon to see about getting their rent lowered. I loved Esther and her "Italian" perfume "Fa-bree-zay." The best moment for the two doctors was when Danny told young Michael that he was going to knock him out... only to have Jeremy step in and take a Nerf dart to the eye for his partner. 
Again, we were subjected to what now seems like the obligatory phone call conversation with Anna Camp's Gwen and Mindy. They continue to be pointless filler, a waste of precious airtime and Camp's talent. 
That scene - along with the accent accident shortly thereafter - were forgivable when weighed against such gems like Jeremy's arm garters, Morgan's account of prison music and Mindy's talent for naming celebrity couples. 
I'm sure the show's creators have some resolutions in mind when it comes to this project.  I hope they don't adjust too much, however, because unlike Mindy's stone therapy, they seem to have just the right combination going for them.