Necessary Roughness touched on a timely tale in "Regret Me Not," broaching the subject of gay players in football. According to Rex, there are no active gay players in any major sport. I found that unbelievably sad.
Imagine having a blossoming career, getting to play the game you love, but having to hide everything about your personal life to the point of denying an integral part of who you are. It must be like living a secret life. And I understood why Rex's partner Jim had grown tired of it.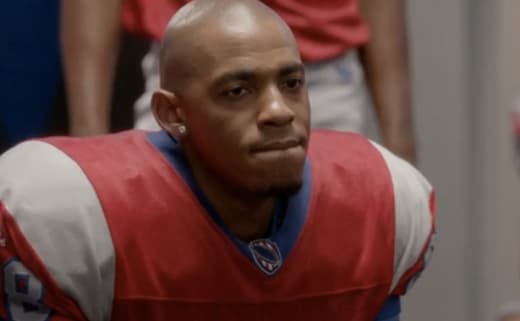 In Rex's defense, he was right. If he announces to the world that he's gay, nothing will ever be the same. He and Jim will become overnight celebrities in our tabloid driven society. So to stop hiding who they are, they'll have to sell off their privacy. That's a hard way to live. 
Speaking of the Hawks, they don't own the ground under their cleats. Marshall Pittman was selling off pieces of the stadium before he died. No one will buy a team that might end up with no place to play. As Nico said, it was Pittman's final screw you.
I've been amazed at how much TK has grown over the course of this season. Recovery over addiction hasn't been easy but the results were evident in every part of TK's life.
First, he's learned to ask for help and having Joe as his sponsor was perfect. He understands the type of pressure TK's under at work and also gets TK's special line of BS and won't put up with it.
Second, TK's figured out how to control his reactions. When Toes was making fun of his ballet slippers, the old TK would have gone off on him and lost his temper  Now? TK used humor to fight Toes digs and threw his stupid remarks right back at him.
Joe was great when he set TK straight. He's not 20 years old anymore and he's survived a gunshot wound. He will never be the player - or the person - he was. He's not going to get younger, but he can work to get smarter.  The best thing about TK's recovery was that he seemed to be trying to do just that.
Finally, there's Dani. I don't even know what to say.
Dani loves Matt but felt they had no future because he wanted kids. She kissed Nico but felt she shouldn't be with him. Now suddenly she's convinced she and Matt are meant to be.
I don't know about you but I'm getting dizzy. In my opinion Dani jumped back in with Matt because she was reeling over her mother's heart attack. I don't believe she really wants to start another family. I think she panicked.
And as much as Matt hasn't always been my favorite character, I had to agree with him. He's been back and forth with Dani and he's got to feel jerked around, especially since he's finally moving on with Noelle.
The sad part was that I don't think Dani ever thought that Matt would walk away if she told him he wanted him back. It looks like she was wrong.
So where does that leave us with next week's season finale? Will Rex come out? Will Dani run back to her therapist for help? Will Matt change his mind? Tune in next week as Necessary Roughness season 2 comes to a close.
C. Orlando is a TV Fanatic Staff Writer. Follow her on Twitter.