Pretty Little Liars Review: Off the Deep End

Teresa Lopez at .
After a few weeks of so-so episodes (last week's being the most frustrating), I anticipated some real action in this case. Especially with all the great promos.
And, yes, "Out of Sight, Out of Mind" delivered the action - but it also brought the crazy. I mean certifiably crazy.
The increase in intensity and drama, which will hopefully propel the story forward, was very much appreciated after wading through one tepid episode after another. However, wasn't this a bit much? Will we look back later on and think of this episode as the one that "jumped the shark?"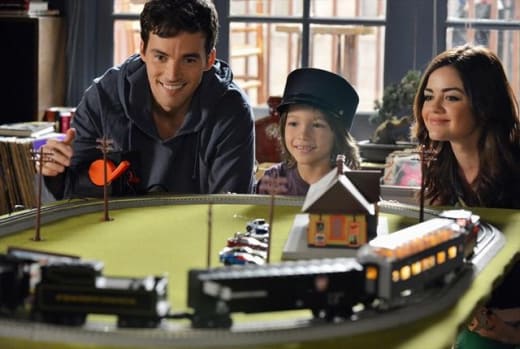 Spencer's decision to finally open up about the Toby problem was way overdue and I was surprised they weren't more upset about it. Instead, they were sympathetic to her situation because it is pretty awful to find out that the person you loved most was just faking it to mask his blinding hatred for you and your closet friends. And how does Spencer respond to their delicate treatment?
No surprise here; she continues being awful. Naturally, Emily has some trouble accepting that her once close friend could be A. Of course, Spencer has been there and done that; yet, she has no tolerance for Emily's false hope, even laughing in her face. Perhaps she was even speaking directly to Spoby fans when she said, "You need to stop thinking about Toby as the person that you thought you knew and start looking at him for who he really is."
But Emily has a good heart and needs to hear this from Toby directly.
So it was a good start to the episode, but then things started getting a little strange. I think what bothered me most was that the signature sin of the main characters - bad decisions - was amplified to a humorous degree.
For instance, why couldn't Emily take the extra time to look at that picture of E. Lamb? She was distracted by that text from "Toby" and never looked back. Nothing is ever as it seems in these girl's lives, so you'd think they would double-check things like that.
Why would Ashley listen to her teenage daughter about the Wilden situation? Wait, I mean, why would an adult listen to a teenager who has put herself and her friends at risk by hiding dangerous information several times?
Then after her mother places a lot of trust in her, why would Hanna do something as stupid as putting the car in the lake? Why did Aria just let him happen while saying it was a bad idea? Let's take bets on how long it will be before the car is discovered. Oh wait...a fisherman already put a hat out of the lake.
Having both Emily and Aria comment on the ridiculousness of the decision doesn't help either. It's like the show's writers know this is a dumb idea, but they're going to do it anyway.
Hey, wouldn't it be funny if Wilden's body was in the trunk?
But I kind of think Wilden's body is being put to good use. When Spencer found that body in the woods, I waited for her to take off the mask. Someone was obviously camping out in the woods (Toby probably), but it seems strange for him to just be hanging out with his helmet on. But Spencer was distracted by the mental breakdown that's been a long time coming.
And she loses it and she ends up in Radley. Really?!?
It seemed more like a convenient excuse for the show to get out of having to really identify the body to the authorities and leaving the girls (and us) guessing about Toby's fate. It struck me as super ridiculous and contrived.
I'm not totally convinced that Toby is dead. The tattoo was supposed to be the identifying feature, but I'll believe it when I see that body's face. I think it's Wilden's body being used to help Toby get some anonymity back as A. Did you notice the gravel on his hand? Seems like the kind of thing that would happen when you're hit by a car out in the woods. What do you think?
But that wasn't the only contrived situation tonight. Maggie's move to Rosewood put Aria in the position of babysitter, and Malcolm's little accident seemed like the perfectly overly dramatic event to indicate how much of an outsider Aria is now. It appears Aria is getting ready to stop expecting Ezra to put their relationship first, which is the first mature thing she's done since this whole Maggie situation started.
With any luck, we'll start getting some real answers from Mona herself in next week's episode. Until then, check out Janel Parrish's interview for a few hints and teases about Mona and Pretty Little Liars.