The Mindy Project Review: Back to You Trish

Chris O'Hara at .
People who choose local news broadcasts over the loftier network additions do so not for the quality of news, but the flavor with which it is delivered.
Like Danny, they would rather hear about foreign affairs from a local hot dog vendor than some on-location correspondent wearing too much makeup. Personally, I hardly ever watch the news at night, local or national. At the end of a long day, the last thing I want to listen to are a bunch of stories that sound like they were plucked from the headlines by the writers of Tosh.O and the Faces of Death film producers.  
Instead of hearing about someone getting pushed onto the subway tracks or run over by a parade float, I prefer to laugh and let the day's stress fade away. 
"Mindy's Minute" succeeded in helping me do just that, despite a rather ambitious slate of story lines. The costume and hand puppet Mindy donned for her initial segment were a bizarre mix of The Muppet Show's Rowlf and Mr. Garrison from South Park. The result was a minute of Mindy that was just "mmkay," but I loved the shout out to Taxi TV. My mornings never feel quite real until I get the lowdown on the latest movies from Sandy Kenyon.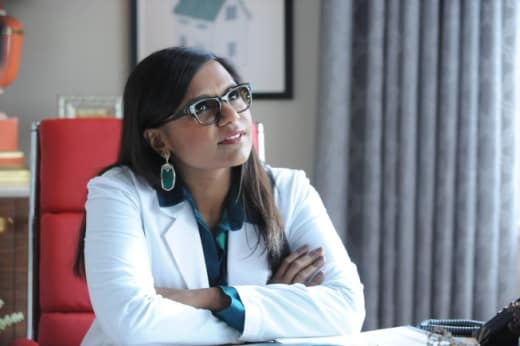 Another great call by Mindy and her team of writers was the cab driver's reaction upon realizing his passenger was the owner of the voice that haunted him so. Those poor drivers have to listen to the same 30-second segments ad nauseum each day. Even the comedic stylings of Jimmy Fallon must begin to sound like nails on a chalkboard at some point. 
The return of Beverly and her dirty hands to the practice was about as random a development as I've seen on this series. Kudos to Morgan and Betsy for having the patience to show her how to use a computer. There are few things more frustrating than trying to explain the most mundane cyber tasks to the technologically illiterate. I thought this bit had a lot more potential for laughs. Hopefully we will see it revisited in future weeks.
I think Beverly could also fit nicely into the mix by uttering an off color remark each week. Like she did tonight when she confessed her preference for older white man to give her the news. Such scenes would be a nice compliment to Morgan's weekly moments of oblivion, such as him not knowing about the Kim Kardashian sex tape. 
Getting back to the news, I found it funny that Danny was such a big fan of local broadcasts. They are sort of the midwife equivalent of the news world. Still, his prepping Mindy for her big on-air segment was one of my favorite parts of the episode. Danny couldn't help but look out for Mindy's best interests, despite still taking his usual quota of shots at her. His best addition to tonight's list of Mindy Project quotes had to be his prayer to Jesus for Mindy to show up and for the Yankees to scout some new talent this season. 
It is always nice to see Drea de Matteo, but I was underwhelmed by her scenes as Mindy's patient. Although without her, we would not have gotten to see Danny jump in for his absent partner on live television. He made the Boom Goes the Dynamite Guy look like Brian Williams. 
Mindy's Q Rating may have been non-existent, but she scored huge points for telling Brendan she hadn't answered any of his messages because he is "a dick." Danny may poke fun at her, but he also gives her a good deal of confidence. I liked his little slip tonight as he called her "Min." The chemistry between them wasn't overt, but we saw it in just the right amount.
Did you enjoy Mindy's Minute or were you calling for a cut to commercial this week?