The Mindy Project Review: Island of Misfit Boys

Chris O'Hara at .
Anyone looking for a prescription for laughter should most definitely be watching The Mindy Project.
The gloves came off this week on "Danny's Friend," as Mindy and Josh's old girlfriend Heather (Ellie Kemper) came face to face once again. In addition to playing covert ops with her condo board to keep Heather from renting an apartment, Mindy also helped Danny confront his long-time friend about being forced into an ethically awkward position. 
Addiction is no laughing matter, but Mindy's mistakenly thrown intervention for Danny, complete with wine and hors d'oeuvres, was hilarious. She may not be a good judge when it comes to chemical dependency, and her calling together the office to confront its coworker turned into more of an office party than the usual intensity-laden script such events tend to follow.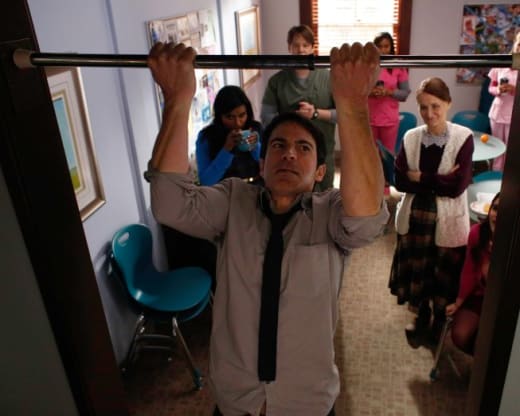 The insertion of Bonnie into the show's roster of characters has been a nice change of pace from the rather random scenes featuring Mindy's other friend Gwen (Anna Camp). The Help poop pie reference was spectacular. As was Round 2 of Mindy vs. Heather.
Ellie Kemper, of Bridemaids and The Office fame, lit up the screen and once again proved to be a well cast rival for Kaling's alter ego. It looked like the avid avian head of Mindy's condo board was going to approve Heather's application. I hope that means down the road we can expect to see some fits of fury featuring the new neighbors. 
Mindy was rather underhanded with the way she tried to blacklist Heather, but her overall fan appeal I feel leans heavily to the positive. In reading viewer comments since the show's premiere, I have been surprised to see a very polarized feeling about Morgan.
Ike Barinholtz is asked to deliver comedy in both slapstick and character driven genres. I laugh at scenes like the one tonight, where he broke the pull-up bar. At the same time, I love the great references he is written, like his asking the condo board head, if his birds would dress him like in Cinderella. I too used to consider Nerds a major food group in my younger days. 
I often forget about Danny's humble beginnings and his story of perseverance. Stevie was a great and hilarious reminder. As was his mother who mistook Mindy for African American before asking if she had any Sicilian in her. The revelation that Danny was a fat kid growing up should make for some great material from Mindy going forward. 
Whatever is in store for Kaling's crew, I'm sure it will be a riot.