Once Upon a Time Creators Tease Erasing of Storybrooke, Season 3 Addition and Wonderland Spinoff
Jim Halterman at .
Once Upon A Time has definitely mixed things up of late, as we head into the concluding episodes of Season 2.
And this Sunday's "Second Star To The Right" is chock-full with the return of Hook... Regina receiving a literal shock... and a Bae-centric flashback. Not to mention the inclusion of magic beans and triggers as well.
Thankfully, creators Edward Kitsis and Adam Horowitz sat down for a Q&A this week and teased what's to come with these next couple episodes, while also giving us a little window into the possible Wonderland spinoff...
-------------------------------------------
The Home Office: Tamara and Owen are on a mission, but we'll find out they're taking their orders from a "home office." Will we find out who/what it is?
"You will find out this season, yes, and hopefully it is not what you think," Kitsis previewed. "You will find out who the home office is, you will find out what they want but you won't know why they want it." We'll also learn more about the motivations of Tamara and Owen.
En Route To Neverland? We head to England this week with a young Bae, but how much does that feed into present day? "What happens with him and Wendy and the Darling family is kind of the emotional touchstone of what these last two hours are," Kitsis said. "And it hopefully informs who he is as a character but also set up another land which is, also, not what we think it is.
Also, Kitsis hinted that the shadow (aka Peter Pan) could, yes, take us to Neverland.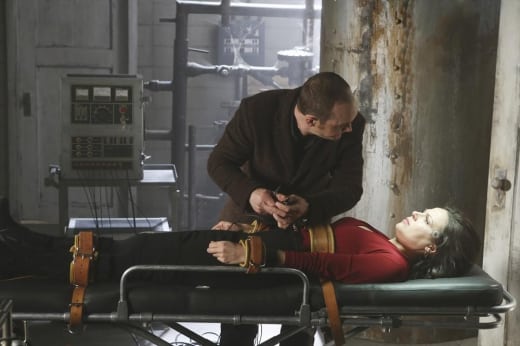 Trigger Me This: What the heck is the trigger that Regina has in her possession? Kitsis explained "the device is an erase button that returns Storybrooke to what it once was so everyone involved in it would die." That may have been a good thing for Regina to have before she was taken by Tamara and Owen. Speaking of Owen, we'll finally find out what happened to his father in Sunday's episode. Also, the producers said there are three magic beans left so those are also up for grabs.
Killing Henry? Remember when Gold was told mid-season that Henry would be his undoing? Don't think Gold (aka Rumplestiltskin) has forgotten that even though he's been busy showing off his bad side to Lacey (aka Belle). Another wrinkle is that Lacey seems to like Gold's evil streak so "I would hate to find out if she heard about this prophecy [and] what she thinks about letting a little child stand in the way," Kitsis hinted.
But will we actually see anyone die in the finale? "Perhaps," Kitsis said. "Perhaps this [episode]."
Snow's Dark Heart: Will Snow White be able to cure her dark heart? "As you start to see in this episode," Horowitz explained, "it's really starting to motivate her and push her and there's a lot of feelings of guilt for what she's done and she sees a tough road ahead of her, which is 'how do I heal this dark heart?' and you'll see that plays a huge part in the finale."
The question might really end up being this: Can a dark heart truly be healed?
Finale Flashback: In the Once Upon a Time Season 2 finale, we'll continue the flashback we begin in this Sunday's episode: "We have hinted that Baelfire knew somebody from the world of Peter Pan," Kitsis said. "And we know that he has a weird connection to this person and this person will be seen and he has beautiful guy-liner."
In other words, the finale is very Hook-centric in terms of the flashback.
Returning/New Characters: We've already had a lot of new people show up this season, but Kitsis and Horowitz said that "we're only going to meet one other person this year who will definitely be in season 3." However, of the possible returning folks, watch for the return of Aurora, Mulan and Phillip before the season wraps up.
Spinoff Scoop: Kitsis is aware there's been much speculation about this series, so he laid it out thusly: "Wonderland takes place post-curse so that the pilot of Wonderland actually starts when magic comes... then it runs concurrent so that we are in present day Wonderland/post-Queen Of Hearts and just like we saw in the Enchanted Forest, there were pockets that were saved."
Horowitz added that "Wonderland touches Once Upon A Time but also is intended to exist as its own thing."
In other words, they said, you don't need to have watched Once to follow Wonderland. Also, while they know Sebastian Stan is too busy with the Captain America sequel to play the Mad Hatter, they confirmed that the role will not be recast.
Wonderland/Once Crossovers: While the guys said having characters crossover between the two worlds in present day would be too complicated, crossovers in flashbacks are definitely in their sights. So we may see characters we thought were long gone show up again: "You cannot do Wonderland and not bring back Barbara [Hershey]," said Kitsis. "I still think there are many Cora stories to be told in both young Cora and old."
Jim Halterman is the West Coast Editor of TV Fanatic and the owner of JimHalterman.com. Follow him on Twitter.